Porsche Cayman GT4 vs Jaguar F-Type R vs Chevrolet Corvette Z06
| Category | F-Type R | Corvette Z06 | Cayman GT4 |
| --- | --- | --- | --- |
| Max power (ps) | 570 | 679 | 420 |
| Max torque (Nm) | 700 | 624 | 420 |
| Curb weight (kg) | 1869 | 1678 | 1452 |
| Power / tonne (ps) | 305 | 405 | 289 |
Performance
| Category | F-Type R | Corvette Z06 | Cayman GT4 |
| --- | --- | --- | --- |
| Top speed | 300 kph | 322 kph | 304 kph |
Summary
| Category | F-Type R | Corvette Z06 | Cayman GT4 |
| --- | --- | --- | --- |
| Track Performance | 0 | 0 | 0 |
| Straight line speed | 125 | 160 | 184 |
| Total | 125 | 160 | 184 |
Verdict
Cayman GT4 is the fastest by a small margin.
However, FastestLaps.com does not have enough lap times and performance data to make this comparison conclusive.
This comparison has been viewed 219 times.
Acceleration graph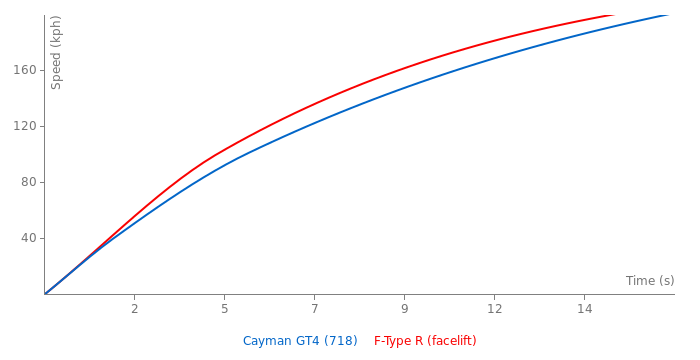 ---
hostboy 4m ago
The very battle of PG-13-rated supercars, all starting at around $100,000. Pick your poison!
I know the Porsche fanboys/fangirls will be upset that I didn't include the 911. But I picked the 718 because it's closer in price, as the base model is to the base Stingray in North America. To be fair, the Jaguar F-Type is also a 'tweener (both a 718 rival and a 911 rival).
Plus, the 911 is more of an exotic anyway, as it competes with the Mercedes-AMG GT/SL, BMW 8 Series, Lexus LC, Aston Martin Vantage, and some versions even directly compete with Ferrari/Maserati, Lamborghini, McLaren models. Basically an R-rated (exotica) philosophy.
Corvette's philosophy is much tamer than 911's. It's like the middle-class gymnast who's glad he's never went to a strip club and threw his $1 bills on a strange chick. Corvette is a genius who plays fair game by manipulating the poor and the 99-percent into bearing into his smartness and systemic intelligence.