Audi RS3 Sportback vs Honda Civic Type R
| Category | Honda Civic Type R | Audi RS3 Sportback |
| --- | --- | --- |
| Max power (ps / bhp) | 310 / 306 | 367 / 362 |
| Max torque (Nm / lb-ft) | 400 / 295 | 468 / 345 |
| Curb weight (kg / lb) | 1400 / 3086 | 1574 / 3470 |
| Power / tonne (ps / bhp) | 222 / 219 | 233 / 230 |
| Average price | €36,000 | €56,000 |
Acceleration
| Speed & distance | Honda Civic Type R | Audi RS3 Sportback |
| --- | --- | --- |
| 0 - 40 kph | 2.0 s | 1.2 s |
| 0 - 50 kph | 2.2 s | 1.5 s |
| 0 - 80 kph | 3.8 s | 3.1 s |
| 0 - 100 kph | 5.2 s | 3.9 s |
| 0 - 130 kph | 8.1 s | 6.1 s |
| 0 - 160 kph | 11.9 s | 8.1 s |
| 0 - 180 kph | 15.0 s | 12.5 s |
| 0 - 200 kph | 18.9 s | 14.8 s |
| 0 - 250 kph | 37.4 s | 28.4 s |
| 1000 m | 24.6 s | 22.4 s |
| 60 - 100 kph (4) | 4.0 s | 4.0 s |
| 60 - 100 kph (5) | 5.6 s | 5.3 s |
| 80 - 120 kph (5) | 4.9 s | 5.1 s |
| 80 - 120 kph (6) | 7.0 s | 6.5 s |
| Est. 100 - 200 kph | 14.7 s | 11.1 s |
| 0 - 60 mph | 5.4 s | 3.6 s |
| 0 - 100 mph | 12.4 s | 9.8 s |
| Est. 1/8 mile | 9.8 s @ 88.2 mph | 8.5 s @ 98.2 mph |
| 1/4 mile | 13.5 s | 12.2 s |
General performance
| Category | Honda Civic Type R | Audi RS3 Sportback |
| --- | --- | --- |
| Top speed | 270 kph (168 mph) | 281 kph (175 mph) |
| Est. 0 - 100 mph - 0 | 20.3 s @ 1739 ft | 16.0 s @ 1371 ft |
| Est. max acceleration | 0.54 g (5 m/s²) | 0.79 g (8 m/s²) |
| 18m slalom | 70.0 kph (43.5 mph) | 70.0 kph (43.5 mph) |
| Fuel economy | 7.3 l/100 km (32 mpg US / 39 UK) | 8.1 l/100 km (29 mpg US / 35 UK) |
| 100 kph - 0 | 32 m (106 ft) | 33 m (108 ft) |
| 200 kph - 0 | 129 m (422 ft) | 129 m (424 ft) |
Summary
| Category | Honda Civic Type R | Audi RS3 Sportback |
| --- | --- | --- |
| Track Performance | 584 | 594 |
| Straight line speed | 1945 | 2671 |
| Total | 2529 | 3266 |
Verdict
RS3 Sportback is the fastest by considerable margin.
This comparison has been viewed 10.1k times.
Acceleration graph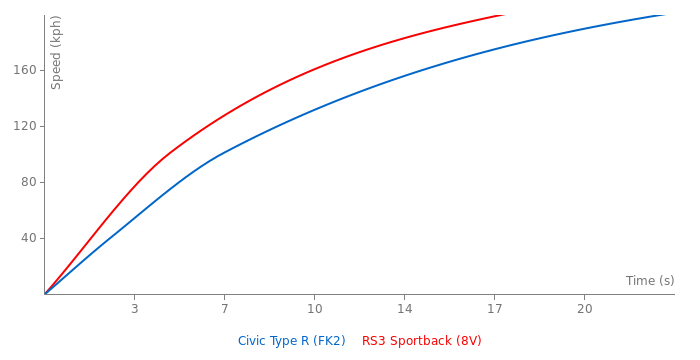 ---
Nick Harry 6y ago
Still, the Honda wins 2 out of 6 of the track battles while costing at least 60% less and returning at least 7 mpg better
---
Michael 5y ago
Still the RS3 kicked the Honda Civic ass, it don't matter if you win by an inch or a mile. Winning's winning. Dont get butt hurt.
---