Ferrari F8 Tributo vs McLaren 765LT
| Category | Ferrari F8 Tributo | McLaren 765LT |
| --- | --- | --- |
| Engine layout | 3.9 l V8 | 4.0 l V8 |
| Max power (ps / bhp) | 720 / 710 | 765 / 755 |
| Max torque (Nm / lb-ft) | 770 / 568 | 800 / 590 |
| Curb weight (kg / lb) | 1522 / 3355 | 1368 / 3016 |
| Power / tonne (ps / bhp) | 473 / 467 | 559 / 552 |
Acceleration
| Speed & distance | Ferrari F8 Tributo | McLaren 765LT |
| --- | --- | --- |
| 0 - 100 kph | 2.8 s | 2.7 s |
| 0 - 200 kph | 7.7 s | 7.0 s |
| 0 - 250 kph | 11.7 s | 11.3 s |
| 0 - 300 kph | 19.9 s | 18.0 s |
| 0 - 30 mph | 1.3 s | 1.4 s |
| 0 - 40 mph | 1.8 s | 1.9 s |
| 0 - 50 mph | 2.3 s | 2.3 s |
| 0 - 60 mph | 2.8 s | 2.7 s |
| 0 - 100 mph | 5.8 s | 5.1 s |
| 1/8 mile | 6.8 s @ 109.0 mph | 6.5 s @ 117.3 mph |
| 1/4 mile | 10.2 s | 9.8 s |
| 1/2 mile | 16.2 s @ 169.4 mph | 15.3 s |
General performance
| Category | Ferrari F8 Tributo | McLaren 765LT |
| --- | --- | --- |
| Top speed | 340 kph (211 mph) | 330 kph (205 mph) |
| Est. 0 - 100 mph - 0 | 9.8 s @ 709 ft | 9.0 s @ 633 ft |
| Est. max acceleration | 1.05 g (10 m/s²) | 0.98 g (10 m/s²) |
| Lateral acceleration | 1.06 g (10 m/s²) | 1.18 g (12 m/s²) |
| 100 kph - 0 | 31 m (100 ft) | 30 m (97 ft) |
| 200 kph - 0 | 119 m (391 ft) | 108 m (354 ft) |
Summary
| Category | Ferrari F8 Tributo | McLaren 765LT |
| --- | --- | --- |
| Track Performance | 94 | 100 |
| Straight line speed | 1736 | 1887 |
| Total | 1829 | 1987 |
Verdict
765LT is the fastest by a small margin.
This comparison has been viewed 2.4k times.
Acceleration graph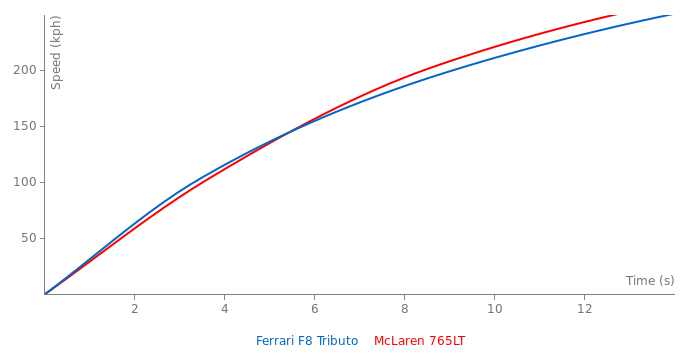 ---
---
... 2y ago
The Ferrari can do 0-100mph a lot quicker than that. It's slightly slower than the Pista, which does it in 5.2 secs. I would estimate 5.2 to 5.4 secs for the Tributo, considering the SV does 5.7 secs and the Huracán LP610-4 in 5.6 secs.