Nissan 350Z vs BMW Z4 3.0i
| Category | Nissan 350Z (287 PS) | BMW Z4 3.0i |
| --- | --- | --- |
| Engine layout | 3.5 l V6 | 3.0 l R6 |
| Max power (ps / bhp) | 287 / 283 | 231 / 228 |
| Max torque (Nm / lb-ft) | 371 / 274 | 300 / 221 |
| Curb weight (kg / lb) | 1544 / 3404 | 1404 / 3095 |
| Power / tonne (ps / bhp) | 186 / 183 | 165 / 162 |
General performance
| Category | Nissan 350Z (287 PS) | BMW Z4 3.0i |
| --- | --- | --- |
| Top speed | 250 kph (155 mph) | 252 kph (156 mph) |
| Est. max acceleration | 0.50 g (5 m/s²) | 0.50 g (5 m/s²) |
| Fuel economy | 11.8 l/100 km (20 mpg US / 24 UK) | 9.1 l/100 km (26 mpg US / 31 UK) |
| Lateral acceleration | 0.88 g (9 m/s²) | 0.92 g (9 m/s²) |
| 100 kph - 0 | 37 m (122 ft) | 36 m (118 ft) |
| 70 mph - 0 | 53 m (174 ft) | 48 m (158 ft) |
Summary
| Category | Nissan 350Z (287 PS) | BMW Z4 3.0i |
| --- | --- | --- |
| Track Performance | 883 | 867 |
| Straight line speed | 1785 | 1875 |
| Total | 2668 | 2741 |
Verdict
There is no clear winner in this comparison.
This comparison has been viewed 2.6k times.
Acceleration graph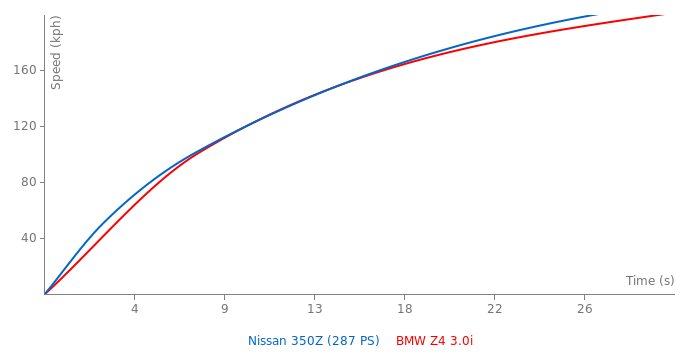 ---
Piorun 10y ago
When 350Z came around, there was nothing like this, then there was a Cayman, and Z4coupe,
But still, 350Z looks great.
As competition from 2002 to 2005 it have no competitors imo. Then in 2005, still looks better.
Onluy Z4Si and CaymanS become better, but now we got 370Z anyway.