Porsche 911 Carrera vs Nissan 370Z
| Category | Porsche 911 Carrera | Nissan 370Z |
| --- | --- | --- |
| Engine layout | 3.6 l B6 | 3.7 l V6 |
| Max power (ps / bhp) | 272 / 268 | 330 / 326 |
| Max torque (Nm / lb-ft) | 330 / 243 | 366 / 270 |
| Curb weight (kg / lb) | 1378 / 3038 | 1842 / 4061 |
| Power / tonne (ps / bhp) | 197 / 195 | 179 / 177 |
Acceleration (mph)
| Speed & distance | Porsche 911 Carrera | Nissan 370Z |
| --- | --- | --- |
| 0 - 30 mph | 1.9 s | 1.8 s |
| 0 - 40 mph | 2.9 s | 2.7 s |
| 0 - 50 mph | 3.9 s | 3.6 s |
| 0 - 60 mph | 5.0 s | 4.7 s |
| 0 - 70 mph | 6.5 s | 6.2 s |
| 0 - 80 mph | 8.0 s | 7.9 s |
| 0 - 90 mph | 10.0 s | 9.6 s |
| 0 - 100 mph | 12.2 s | 11.8 s |
| 0 - 110 mph | 14.8 s | 15.2 s |
| 0 - 120 mph | 18.3 s | 18.6 s |
| Est. 1/8 mile | 9.7 s @ 88.2 mph | 9.6 s @ 88.9 mph |
| 1/4 mile | 13.5 s @ 106.0 mph | 13.3 s @ 105.0 mph |
Acceleration (kph)
| Speed & distance | Porsche 911 Carrera | Nissan 370Z |
| --- | --- | --- |
| 0 - 100 kph | 5.2 s | 5.1 s |
| 0 - 160 kph | 12.3 s | 13.0 s |
| 0 - 180 kph | 15.9 s | 16.6 s |
| 0 - 200 kph | 21.0 s | 20.0 s |
| 1000 m | 24.7 s | 25.3 s @ 208.0 kph |
| 60 - 100 kph (4) | 6.1 s | 4.9 s |
| 60 - 100 kph (5) | 7.7 s | 7.7 s |
| 80 - 120 kph (5) | 7.0 s | 7.0 s |
| 80 - 120 kph (6) | 10.5 s | 9.6 s |
| Est. 100 - 200 kph | 16.1 s | 15.6 s |
General performance
| Category | Porsche 911 Carrera | Nissan 370Z |
| --- | --- | --- |
| Top speed | 276 kph (171 mph) | 253 kph (157 mph) |
| Est. max acceleration | 0.57 g (6 m/s²) | 0.58 g (6 m/s²) |
| Fuel economy | 8.5 l/100 km (28 mpg US / 33 UK) | 11.5 l/100 km (20 mpg US / 25 UK) |
| Lateral acceleration | 0.92 g (9 m/s²) | 0.99 g (10 m/s²) |
| 100 kph - 0 | 36 m (118 ft) | 33 m (110 ft) |
| 60 mph - 0 | 36 m (117 ft) | 32 m (106 ft) |
Summary
| Category | Porsche 911 Carrera | Nissan 370Z |
| --- | --- | --- |
| Track Performance | 184 | 200 |
| Straight line speed | 2723 | 2893 |
| Total | 2907 | 3093 |
Verdict
370Z is the fastest by a small margin.
This comparison has been viewed 2.2k times.
Acceleration graph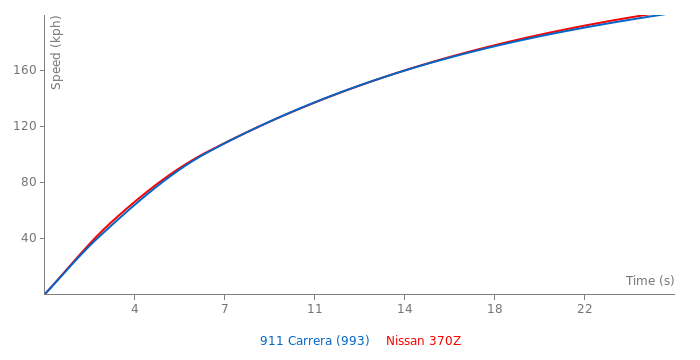 Karthick01 10y ago
This Result is as Expected.
---
---
Frank 10y ago
Prior Car 79 Wide body, 964 > 930 3.3 mods , Twin 996 Cams, 42mm intakes Cc'd heads, TO4, 8 to 1 Comp / C4 intercooler / 1 bar boost.
Current
Stock 2009 370z, for a out of factory unmodified NA paddle shift Car I'd prefer my 30 year older Porsche that also was stock factory suspension & everything else bar the modified engine, because you can feel the car in your hands your body etc etc;
I love the 370 far as power but that's about it, it took 30+ years for Nissan to catch up with Porsche & it'l take another 30 to get it to corner & handle like a 930.