Porsche 911 Carrera vs Audi RS3 Sportback
| Category | Porsche 911 Carrera | Audi RS3 Sportback |
| --- | --- | --- |
| Max power (ps / bhp) | 345 / 341 | 340 / 335 |
| Max torque (Nm / lb-ft) | 390 / 288 | 450 / 332 |
| Curb weight (kg / lb) | 1415 / 3120 | 1575 / 3472 |
| Power / tonne (ps / bhp) | 244 / 241 | 216 / 213 |
Performance
| Category | Porsche 911 Carrera | Audi RS3 Sportback |
| --- | --- | --- |
| 0 - 100 kph | 4.6 s | 4.0 s |
| 0 - 200 kph | 16.5 s | 15.7 s |
| Est. 100 - 200 kph | 11.9 s | 11.7 s |
| 0 - 100 mph | 9.9 s | 9.9 s |
| Est. 1/8 mile | 9.0 s @ 95.1 mph | 8.6 s @ 98.2 mph |
| 1/4 mile | 12.5 s @ 113.1 mph | 12.4 s |
| Top speed | 289 kph (180 mph) | 260 kph (162 mph) |
| Est. max acceleration | 0.67 g (7 m/s²) | 0.79 g (8 m/s²) |
Summary
| Category | Porsche 911 Carrera | Audi RS3 Sportback |
| --- | --- | --- |
| Track Performance | 200 | 193 |
| Straight line speed | 695 | 773 |
| Total | 895 | 966 |
Verdict
RS3 Sportback is the fastest by a small margin.
This comparison has been viewed 2.7k times.
Acceleration graph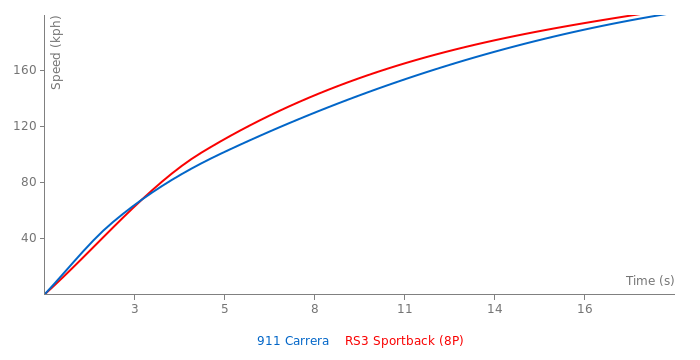 ---
FastestLaps 10y ago
Porsche has considerably better power/weight ratio.
---
rsTom1 10y ago
Rubbish "verdict"- RS caned the Carrera in EVERY speed category. How on earth did the RS not win??? Is 2+2=4 and black= white???