Toyota GT86 vs Ford Focus ST
| Category | Toyota GT86 | Ford Focus ST |
| --- | --- | --- |
| Engine layout | 2.0 l B4 | 2.0 l R4 |
| Max power (ps / bhp) | 200 / 197 | 250 / 247 |
| Max torque (Nm / lb-ft) | 205 / 151 | 361 / 266 |
| Curb weight (kg / lb) | 1239 / 2732 | 1445 / 3186 |
| Power / tonne (ps / bhp) | 161 / 159 | 173 / 171 |
| Average price | €34,000 | €32,000 |
Acceleration (mph)
| Speed & distance | Toyota GT86 | Ford Focus ST |
| --- | --- | --- |
| 0 - 30 mph | 2.3 s | 2.3 s |
| 0 - 40 mph | 3.4 s | 3.4 s |
| 0 - 50 mph | 4.7 s | 4.5 s |
| 0 - 60 mph | 6.4 s | 5.9 s |
| 0 - 70 mph | 8.4 s | 7.9 s |
| 0 - 80 mph | 10.7 s | 9.9 s |
| 0 - 90 mph | 13.5 s | 13.1 s |
| 0 - 100 mph | 16.5 s | 14.9 s |
| Est. 1/8 mile | 10.9 s @ 78.3 mph | 10.3 s @ 83.3 mph |
| 1/4 mile | 14.9 s @ 93.2 mph | 14.3 s @ 96.3 mph |
| Est. 1/2 mile | 26.0 s @ 116.8 mph | 24.4 s @ 119.9 mph |
Rolling acceleration
| Speed | Toyota GT86 | Ford Focus ST |
| --- | --- | --- |
| 80 - 120 kph (4) | 7.7 s | 4.8 s |
| 80 - 120 kph (5) | 9.4 s | 6.6 s |
| 80 - 120 kph (6) | 13.2 s | 8.0 s |
| 80 - 160 kph (4) | 16.0 s | 10.9 s |
| 80 - 160 kph (5) | 20.1 s | 14.5 s |
| Est. 100 - 200 kph | 24.2 s | 20.8 s |
General performance
| Category | Toyota GT86 | Ford Focus ST |
| --- | --- | --- |
| Top speed | 226 kph (140 mph) | 248 kph (154 mph) |
| Est. 0 - 100 mph - 0 | 28.7 s @ 2572 ft | 25.2 s @ 2247 ft |
| Est. max acceleration | 0.42 g (4 m/s²) | 0.49 g (5 m/s²) |
| 18m slalom | 67.6 kph (42.0 mph) | 66.2 kph (41.1 mph) |
| Fuel economy | 8.1 l/100 km (29 mpg US / 35 UK) | 8.5 l/100 km (28 mpg US / 33 UK) |
| Lateral acceleration | 0.91 g (9 m/s²) | 0.97 g (10 m/s²) |
| 100 kph - 0 | 34 m (113 ft) | 36 m (117 ft) |
| 200 kph - 0 | 154 m (506 ft) | 149 m (488 ft) |
Summary
| Category | Toyota GT86 | Ford Focus ST |
| --- | --- | --- |
| Track Performance | 1499 | 1599 |
| Straight line speed | 2824 | 3561 |
| Total | 4323 | 5160 |
Verdict
Focus ST is the fastest by a small margin.
This comparison has been viewed 4.6k times.
Acceleration graph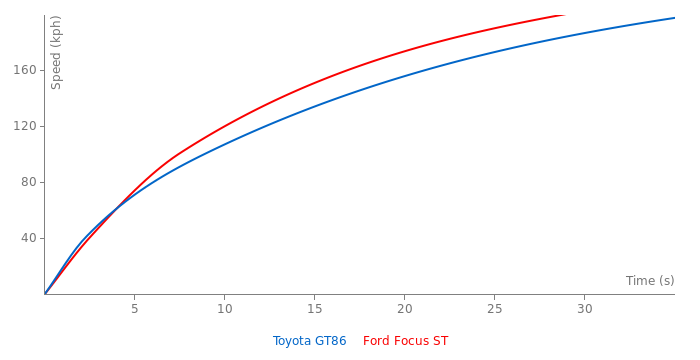 Anonymous 6m ago
Post content redacted by Advanced BS Detector (ABSD)™
---
Ford cant produce competitive ca 7y ago
Piorun i hope you understand that the ford focus has a goddamn turbo, which gives it unfair advantages here.
---