Pagani Huayra vs Ferrari F12 Berlinetta
| Category | F12 Berlinetta | Pagani Huayra |
| --- | --- | --- |
| Engine layout | 6.3 l V12 | 6.0 l V12 |
| Max power (ps / bhp) | 740 / 730 | 730 / 720 |
| Max torque (Nm / lb-ft) | 690 / 509 | 1000 / 738 |
| Curb weight (kg / lb) | 1774 / 3911 | 1350 / 2976 |
| Power / tonne (ps / bhp) | 417 / 411 | 541 / 533 |
General performance
| Category | F12 Berlinetta | Pagani Huayra |
| --- | --- | --- |
| Top speed | 345 kph (214 mph) | 360 kph (224 mph) |
| Est. 0 - 100 mph - 0 | 9.8 s @ 676 ft | 9.7 s @ 696 ft |
| Est. max acceleration | 0.99 g (10 m/s²) | 0.90 g (9 m/s²) |
| Fuel economy | 20.3 l/100 km (12 mpg US / 14 UK) | 15.0 l/100 km (16 mpg US / 19 UK) |
Summary
| Category | F12 Berlinetta | Pagani Huayra |
| --- | --- | --- |
| Track Performance | 0 | 0 |
| Straight line speed | 839 | 840 |
| Total | 839 | 840 |
Verdict
There is no clear winner in this comparison.
This comparison has been viewed 2.7k times.
Acceleration graph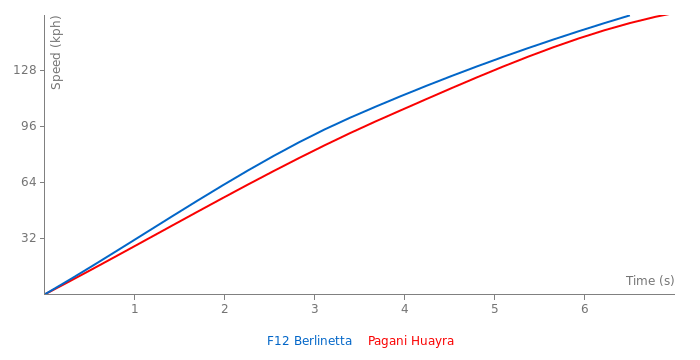 Karthick01 8y ago
Pagani Huayra won as I Expected.
---
---
A man on the road 10y ago
Only a bit faster? Many other comparisons with the same difference of points had another verdict: X is noticeably faster than Y...
Why this is not the same?