Porsche 911 GT3 vs Porsche 911 Carrera GTS
| Category | Porsche 911 GT3 | 911 Carrera GTS |
| --- | --- | --- |
| Max power (ps / bhp) | 476 / 469 | 450 / 444 |
| Max torque (Nm / lb-ft) | 440 / 325 | 550 / 406 |
| Curb weight (kg / lb) | 1451 / 3199 | 1514 / 3338 |
| Power / tonne (ps / bhp) | 328 / 323 | 297 / 293 |
| Average price | €146,000 | €141,000 |
| Auto insurance group | 50 | 50 |
Acceleration (mph)
| Speed & distance | Porsche 911 GT3 | 911 Carrera GTS |
| --- | --- | --- |
| 0 - 60 mph | 3.0 s | 3.0 s |
| 0 - 100 mph | 7.1 s | 7.2 s |
| 0 - 130 mph | 12.0 s | 12.2 s |
| 0 - 150 mph | 17.1 s | 17.4 s |
| Est. 1/8 mile | 7.8 s @ 104.4 mph | 8.0 s @ 103.8 mph |
| 1/4 mile | 11.2 s @ 126.1 mph | 11.3 s @ 125.0 mph |
| Est. 1/2 mile | 18.7 s @ 153.5 mph | 18.9 s @ 151.6 mph |
| Est. 1 mile | 30.6 s @ 175.8 mph | 31.1 s @ 174.6 mph |
Rolling acceleration
| Speed | Porsche 911 GT3 | 911 Carrera GTS |
| --- | --- | --- |
| 60 - 100 kph (4) | 4.5 s | 3.6 s |
| 80 - 120 kph (5) | 5.6 s | 4.3 s |
| 80 - 120 kph (6) | 7.1 s | 5.6 s |
| 80 - 120 kph (7) | 8.7 s | 9.4 s |
| 100 - 140 kph | 2.5 s | 2.4 s |
| Est. 100 - 200 kph | 7.9 s | 8.2 s |
General performance
| Category | Porsche 911 GT3 | 911 Carrera GTS |
| --- | --- | --- |
| Top speed | 315 kph (196 mph) | 310 kph (193 mph) |
| Est. 0 - 100 mph - 0 | 10.9 s @ 774 ft | 11.1 s @ 784 ft |
| Est. max acceleration | 0.89 g (9 m/s²) | 0.88 g (9 m/s²) |
| 18m slalom | 75.1 kph (46.7 mph) | 74.3 kph (46.2 mph) |
| Fuel economy | 13.1 l/100 km (18 mpg US / 22 UK) | 11.9 l/100 km (20 mpg US / 24 UK) |
| Lateral acceleration | 1.12 g (11 m/s²) | 1.06 g (10 m/s²) |
| 100 kph - 0 | 31 m (100 ft) | 29 m (96 ft) |
| 200 kph - 0 | 119 m (391 ft) | 122 m (400 ft) |
| 70 mph - 0 | 41 m (135 ft) | 43 m (141 ft) |
Summary
| Category | Porsche 911 GT3 | 911 Carrera GTS |
| --- | --- | --- |
| Track Performance | 690 | 687 |
| Straight line speed | 3046 | 3092 |
| Total | 3736 | 3780 |
Verdict
There is no clear winner in this comparison.
This comparison has been viewed 2.8k times.
Acceleration graph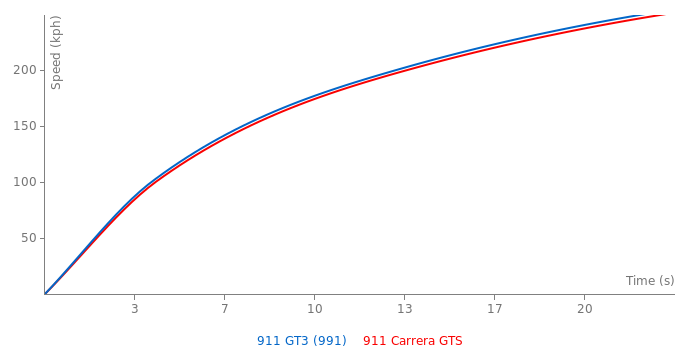 ---
FastestLaps 2y ago
GT3 of course. With the big spoiler. For maximum w****r points!
---

---
Cocobe 2y ago
from new, I'd get a GT3 if I can get at sticker price.
from 2nd hand, I'd get a different car with a 9000rpm red line, called the Italia. I can't believe they are selling for the same price 2nd hand where I live. But again I guess Porsches are built to take on more mileage.
A GTS... I wouldn't bother. It's just not rare nor special enough. At least the gt3 has a unique engine.
---
MarMPB 2y ago
I think the 991 GT3 is faster by a small margin. Altough the track performance was even, it won the straight line consistently.