Chevrolet Camaro ZL1 1LE Package vs Ford Mustang Shelby GT500
| Category | Mustang Shelby GT500 | Camaro ZL1 1LE |
| --- | --- | --- |
| Engine layout | 5.2 l V8 | 6.2 l V8 |
| Max power (ps / bhp) | 771 / 760 | 659 / 650 |
| Max torque (Nm / lb-ft) | 847 / 625 | 881 / 650 |
| Curb weight (kg / lb) | 1875 / 4134 | 1747 / 3851 |
| Power / tonne (ps / bhp) | 411 / 405 | 377 / 372 |
| Average price | €129,000 | €97,000 |
Acceleration (mph)
| Speed & distance | Mustang Shelby GT500 | Camaro ZL1 1LE |
| --- | --- | --- |
| 0 - 30 mph | 1.6 s | 1.4 s |
| 0 - 40 mph | 2.3 s | 2.2 s |
| 0 - 50 mph | 2.9 s | 2.8 s |
| 0 - 60 mph | 3.4 s | 3.4 s |
| 0 - 70 mph | 4.3 s | 4.4 s |
| 0 - 80 mph | 5.1 s | 5.3 s |
| 0 - 90 mph | 6.0 s | 6.6 s |
| 0 - 100 mph | 7.0 s | 7.4 s |
| 0 - 150 mph | 15.1 s | 18.7 s |
| 0 - 160 mph | 18.1 s | 23.6 s |
| Est. 1/8 mile | 8.3 s @ 105.0 mph | 8.4 s @ 100.7 mph |
| 1/4 mile | 11.3 s @ 131.6 mph | 11.5 s @ 124.0 mph |
Acceleration (kph)
| Speed & distance | Mustang Shelby GT500 | Camaro ZL1 1LE |
| --- | --- | --- |
| 0 - 40 kph | 1.7 s | 1.9 s |
| 0 - 50 kph | 1.6 s | 1.6 s |
| 0 - 80 kph | 3.0 s | 2.8 s |
| 0 - 100 kph | 3.9 s | 3.6 s |
| 0 - 130 kph | 5.5 s | 5.3 s |
| 0 - 160 kph | 7.5 s | 7.7 s |
| 0 - 180 kph | 9.6 s | 9.1 s |
| 0 - 200 kph | 10.8 s | 11.0 s |
| 0 - 250 kph | 21.9 s | 20.7 s |
Rolling acceleration
| Speed | Mustang Shelby GT500 | Camaro ZL1 1LE |
| --- | --- | --- |
| 60 - 100 kph (4) | 4.3 s | 2.9 s |
| 60 - 100 kph (5) | 5.5 s | 3.1 s |
| 80 - 120 kph (4) | 3.3 s | 3.4 s |
| 80 - 120 kph (5) | 4.8 s | 3.5 s |
| 80 - 120 kph (6) | 7.5 s | 5.0 s |
| 80 - 120 kph (7) | 10.9 s | 6.6 s |
| 80 - 160 kph (4) | 6.6 s | 7.0 s |
| 80 - 160 kph (5) | 9.5 s | 9.4 s |
| 80 - 160 kph (6) | 14.7 s | 12.5 s |
General performance
| Category | Mustang Shelby GT500 | Camaro ZL1 1LE |
| --- | --- | --- |
| Top speed | 293 kph (182 mph) | 310 kph (193 mph) |
| Est. max acceleration | 0.71 g (7 m/s²) | 0.73 g (7 m/s²) |
| Fuel economy | 17.1 l/100 km (14 mpg US / 17 UK) | 12.3 l/100 km (19 mpg US / 23 UK) |
| Lateral acceleration | 1.16 g (11 m/s²) | 1.18 g (12 m/s²) |
Summary
| Category | Mustang Shelby GT500 | Camaro ZL1 1LE |
| --- | --- | --- |
| Track Performance | 488 | 498 |
| Straight line speed | 3585 | 4265 |
| Total | 4073 | 4763 |
Verdict
Camaro ZL1 1LE Package is the fastest by a small margin.
This comparison has been viewed 936 times.
Acceleration graph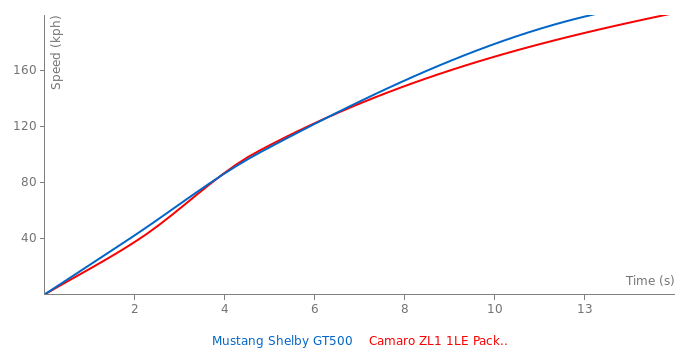 ---
---
sans 1y ago
GT500 is slower than output.
---

aaayy 2y ago
I wonder why the Mustang is so much faster at higher speeds. It can't be the dual-clutch transmission, because GM's 10-speed actually shifts a bit faster. It can't be weight because the Stang weighs 200 LBS more. It's probably power, the extra +110 HP, but the Camaro still weighs less, so I'm not sure why.
---
Zulu99 6m ago
It's engine design, the pushrod can only take in so much air. The DOHC design can take in more air, while revving higher. The extra 110 hp will also assist in achieving this as well.