Ferrari F430 vs Lotus Exige S
| Category | Ferrari F430 | Lotus Exige S (V6) |
| --- | --- | --- |
| Engine layout | 4.3 l V8 | 3.5 l V6 |
| Max power (ps / bhp) | 490 / 483 | 350 / 345 |
| Max torque (Nm / lb-ft) | 465 / 343 | 400 / 295 |
| Curb weight (kg / lb) | 1498 / 3303 | 1140 / 2513 |
| Power / tonne (ps / bhp) | 327 / 323 | 307 / 303 |
General performance
| Category | Ferrari F430 | Lotus Exige S (V6) |
| --- | --- | --- |
| Top speed | 315 kph (196 mph) | 279 kph (173 mph) |
| Est. max acceleration | 0.77 g (8 m/s²) | 0.76 g (8 m/s²) |
| Fuel economy | 21.4 l/100 km (11 mpg US / 13 UK) | 10.1 l/100 km (23 mpg US / 28 UK) |
| 200 kph - 0 | 134 m (441 ft) | 125 m (409 ft) |
Summary
| Category | Ferrari F430 | Lotus Exige S (V6) |
| --- | --- | --- |
| Track Performance | 393 | 392 |
| Straight line speed | 1196 | 1202 |
| Total | 1589 | 1594 |
Verdict
There is no clear winner in this comparison.
This comparison has been viewed 15.2k times.
Acceleration graph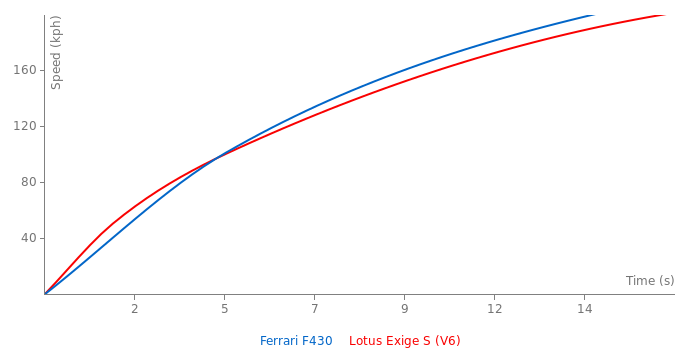 ---

Mental 10y ago
Lotus FTW!
I really wish the new Esprit would actually be accepted. We could see a new superlight top-supercar. With 600 PS twin-turbo V6, below 1000 kg weight and 7-speed DCT / manual it would be a 100% perfect supercar. Lotus has so a lot of potential. Just a shame they have problems with finances... They have to create a Panamera-fighter, aka Lotus Elite, to engage sales, and then make a hit with the Esprit. Yeah!
---