Ferrari F430 vs BMW M3
| Category | BMW M3 (E92) | Ferrari F430 |
| --- | --- | --- |
| Engine layout | 4.0 l V8 | 4.3 l V8 |
| Max power (ps / bhp) | 420 / 414 | 490 / 483 |
| Max torque (Nm / lb-ft) | 400 / 295 | 465 / 343 |
| Curb weight (kg / lb) | 1614 / 3558 | 1483 / 3269 |
| Power / tonne (ps / bhp) | 260 / 257 | 330 / 326 |
General performance
| Category | BMW M3 (E92) | Ferrari F430 |
| --- | --- | --- |
| Top speed | 280 kph (174 mph) | 315 kph (196 mph) |
| Est. max acceleration | 0.68 g (7 m/s²) | 0.81 g (8 m/s²) |
| Lateral acceleration | 0.94 g (9 m/s²) | 0.97 g (10 m/s²) |
| 70 mph - 0 | 50 m (163 ft) | 45 m (147 ft) |
Summary
| Category | BMW M3 (E92) | Ferrari F430 |
| --- | --- | --- |
| Track Performance | 1209 | 1281 |
| Straight line speed | 889 | 1300 |
| Total | 2099 | 2581 |
Verdict
F430 is the fastest by a small margin.
This comparison has been viewed 397 times.
Acceleration graph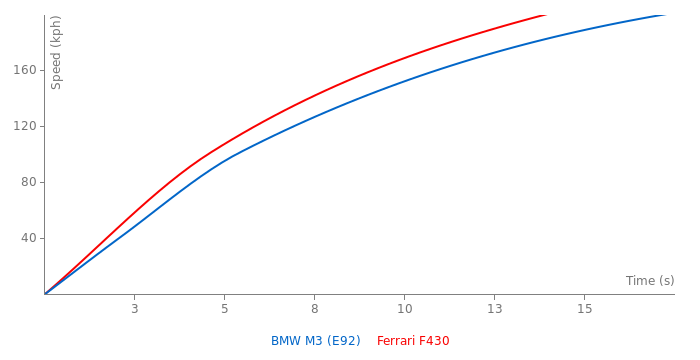 ---
TIM CHEOU 2m ago
I am comparing because i am upgrading from my m3 to f430. Ferrari i rented before it turns out to feel slower but its not that slow interestingly.
---
FastestLaps 2m ago @TIM CHEOU
430 is not slow by any standards. It was huge leap in performance, compared to 360.
---