Aston Martin V8 Vantage vs Maserati GranTurismo S
| Category | V8 Vantage | GranTurismo S |
| --- | --- | --- |
| Engine layout | 4.3 l V8 | 4.7 l V8 |
| Max power (ps / bhp) | 385 / 380 | 439 / 433 |
| Max torque (Nm / lb-ft) | 417 / 308 | 490 / 361 |
| Curb weight (kg / lb) | 1633 / 3600 | 1911 / 4213 |
| Power / tonne (ps / bhp) | 236 / 232 | 230 / 227 |
General performance
| Category | V8 Vantage | GranTurismo S |
| --- | --- | --- |
| Top speed | 282 kph (175 mph) | 298 kph (185 mph) |
| Est. max acceleration | 0.57 g (6 m/s²) | 0.69 g (7 m/s²) |
| Lateral acceleration | 0.93 g (9 m/s²) | 0.98 g (10 m/s²) |
Summary
| Category | V8 Vantage | GranTurismo S |
| --- | --- | --- |
| Track Performance | 392 | 392 |
| Straight line speed | 1010 | 1109 |
| Total | 1402 | 1501 |
Verdict
GranTurismo S is the fastest by a small margin.
This comparison has been viewed 2.1k times.
Acceleration graph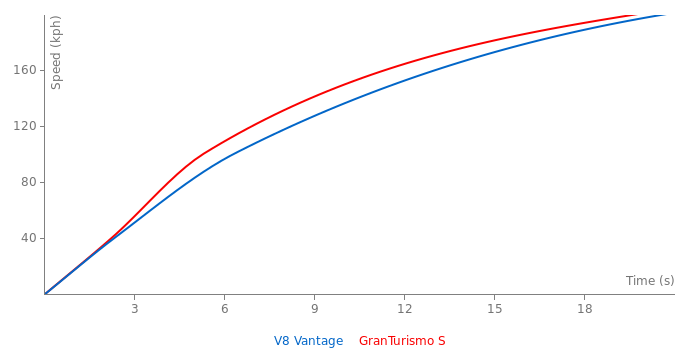 altimgamr 2m ago
they're all junk, a 90s twin turbo supra RAPES them
---
Piorun 10y ago
GentleMan's Muscle from Italy and GB.
So much "soul" in those cars.
We got also Mustangs, and C63/M3 but they are much more ordinary. Based on pupular sedans.
So there is no winner. Its more about style. Aston - is James'ich Bond'ish. Mans car. Maserati more of an art little more subtele. But stil with V8 and both great sound.
---
hostboy 4m ago
The GranTurismo is NOT a muscle car. Simply big engine up front and rwd =/= muscle. Is a Bentley Brooklands a muscle car? HELL NO!!
I don't mean to come off as "snotty" or "aggressive", but both of the cars I mentioned (above) are grand tourers. Many Ferraris and even some Porsches (namely the 928 and the first-gen Panamera) have a V8 engine up front with r.w.d., but that doesn't make them muscle cars at all.
---
hostboy 4m ago
The V8 and V12 Vantage however are pretty darn close to the recipe, but still not aggressive or low-quality enough to be considered muscle. There really is no such thing as "GentleMen's Muscle".
Muscle cars have to be "ordinary" by your definition PERIOD.
Another thing too, the "Maserati" Ghibli is not a real Maserati, just like the Chrysler TC wasn't. It is sold with a Maserati badge only because Chrysler has no luxury brand in its umbrella (Chrysler and Maserati both are owned by Stellantis, but Maserati doesn't exactly compete with Cadillac, Lincoln, or Tesla), most of its underpinnings come STRAIGHT FROM the Chrysler 300 and Dodge Charger parts bin. That, you can call a "luxury" muscle car. Not that there's anything wrong with that :) The Lincoln Mark/Continental and Cadillac Eldorado/Seville of the '90s were the same way.