Subaru Cosworth Impreza CS400 vs Mercedes-Benz A 45 AMG
| Category | Cosworth Impreza | A 45 AMG |
| --- | --- | --- |
| Max power (ps / bhp) | 400 / 394 | 380 / 375 |
| Max torque (Nm / lb-ft) | 515 / 380 | 475 / 350 |
| Curb weight (kg / lb) | 1505 / 3318 | 1569 / 3459 |
| Power / tonne (ps / bhp) | 266 / 262 | 242 / 239 |
Performance
| Category | Cosworth Impreza | A 45 AMG |
| --- | --- | --- |
| 0 - 100 kph | 4.6 s | 4.1 s |
| Est. 0 - 60 mph | 4.4 s | 4.1 s |
| Est. 1/8 mile | 8.7 s @ 92.0 mph | 8.8 s @ 96.3 mph |
| 1/4 mile | 13.0 s @ 110.6 mph | 12.4 s |
| Top speed | 250 kph (155 mph) | 270 kph (168 mph) |
Summary
| Category | Cosworth Impreza | A 45 AMG |
| --- | --- | --- |
| Track Performance | 0 | 0 |
| Straight line speed | 417 | 497 |
| Total | 417 | 497 |
Verdict
A 45 AMG is the fastest by a small margin.
This comparison has been viewed 1.7k times.
Acceleration graph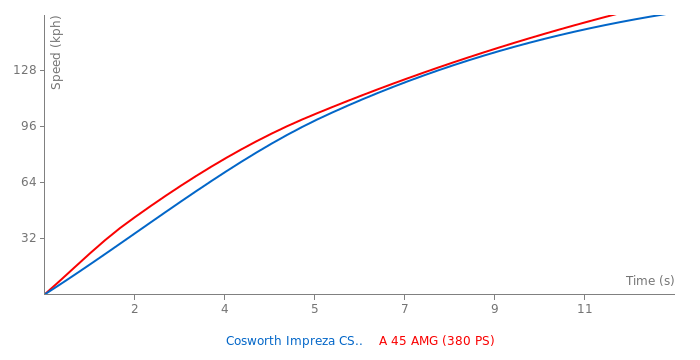 2021 1y ago
The Subaru Does 0-60 in 3.7 seconds not 4.4 ????
---
FastestLaps 1y ago
The 0-60 mph time displayed here is an estimate (notice the "est" label). It is based on 0-100 kph time, which would indicate 0-60 in this 4.4 range.
---
---