Chevrolet Camaro ZL1 vs BMW M3
| Category | Chevrolet Camaro ZL1 | BMW M3 (F80) |
| --- | --- | --- |
| Engine layout | 6.2 l V8 | 3.0 l R6 |
| Max power (ps / bhp) | 588 / 580 | 431 / 425 |
| Max torque (Nm / lb-ft) | 751 / 554 | 550 / 406 |
| Curb weight (kg / lb) | 1838 / 4052 | 1604 / 3536 |
| Power / tonne (ps / bhp) | 320 / 316 | 269 / 265 |
General performance
| Category | Chevrolet Camaro ZL1 | BMW M3 (F80) |
| --- | --- | --- |
| Top speed | 296 kph (184 mph) | 284 kph (176 mph) |
| Est. max acceleration | 0.67 g (7 m/s²) | 0.72 g (7 m/s²) |
| Lateral acceleration | 1.03 g (10 m/s²) | 1.01 g (10 m/s²) |
| 60 mph - 0 | 30 m (100 ft) | 30 m (99 ft) |
| 70 mph - 0 | 48 m (157 ft) | 46 m (150 ft) |
Summary
| Category | Chevrolet Camaro ZL1 | BMW M3 (F80) |
| --- | --- | --- |
| Track Performance | 389 | 399 |
| Straight line speed | 1159 | 1281 |
| Total | 1548 | 1679 |
Verdict
M3 is the fastest by a small margin.
This comparison has been viewed 3.7k times.
Acceleration graph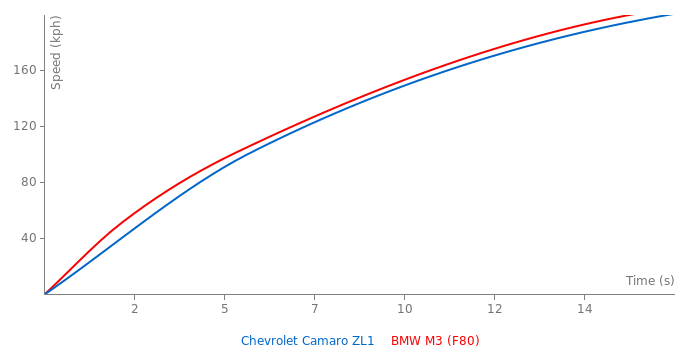 ---
Jon 7y ago
Let's talk track times shall we? You list something as terrible as MTs figure-8 but leave out the ZL1 and M3 'ring' times? Sounds fishy to me.
The ZL1 ran the ring in 7:41 and at a whopping 4100lbs! Has a 60K+ M3 even broken 8 minutes yet? C'mon. Dollar for dollar the ZL1 whoops the M3 ... on the track and on the street (light to light, roll, you name it).
Not the mention the ZL1 is super mod friendly and on the cheap. For 2K in mods you could have this thing making 750-800 BHP on pump gas. All of this with a world class MR suspension.
---
fakekillerfour 8y ago
M3 F80 wins 3-1 on tracks M3 F80 wins 4-1 on performance figures
M3 is definitely faster.