BMW M4 Competition vs BMW M240i
| Category | BMW M4 Competition | BMW M240i |
| --- | --- | --- |
| Max power (ps / bhp) | 450 / 444 | 340 / 335 |
| Max torque (Nm / lb-ft) | 550 / 406 | 500 / 369 |
| Curb weight (kg / lb) | 1627 / 3587 | 1578 / 3479 |
| Power / tonne (ps / bhp) | 277 / 273 | 215 / 213 |
| Average price | €92,000 | €50,000 |
Acceleration
| Speed & distance | BMW M4 Competition | BMW M240i |
| --- | --- | --- |
| 0 - 40 kph | 1.5 s | 1.6 s |
| 0 - 50 kph | 1.8 s | 1.9 s |
| 0 - 100 kph | 4.0 s | 4.5 s |
| 0 - 130 kph | 6.1 s | 6.9 s |
| 0 - 160 kph | 8.6 s | 10.1 s |
| 0 - 200 kph | 12.8 s | 16.2 s |
| Est. 1/8 mile | 8.6 s @ 99.4 mph | 8.9 s @ 95.1 mph |
| 1/4 mile | 12.2 s | 12.9 s |
Rolling acceleration
| Speed | BMW M4 Competition | BMW M240i |
| --- | --- | --- |
| 60 - 100 kph (4) | 3.6 s | 2.9 s |
| 60 - 100 kph (5) | 5.5 s | 3.8 s |
| 80 - 120 kph (4) | 3.5 s | 3.2 s |
| 80 - 120 kph (5) | 4.5 s | 3.8 s |
| 80 - 120 kph (6) | 6.1 s | 5.0 s |
| 80 - 120 kph (7) | 10.3 s | 6.8 s |
| 80 - 160 kph (4) | 7.4 s | 7.4 s |
| 80 - 160 kph (5) | 10.0 s | 8.8 s |
| 80 - 160 kph (6) | 13.3 s | 11.4 s |
| 80 - 160 kph (7) | 20.6 s | 14.7 s |
| Est. 100 - 200 kph | 9.4 s | 12.2 s |
General performance
| Category | BMW M4 Competition | BMW M240i |
| --- | --- | --- |
| Top speed | 280 kph (174 mph) | 250 kph (155 mph) |
| Est. 0 - 100 mph - 0 | 15.1 s @ 1250 ft | 17.5 s @ 1496 ft |
| Est. max acceleration | 0.72 g (7 m/s²) | 0.74 g (7 m/s²) |
| 18m slalom | 71.4 kph (44.4 mph) | 69.8 kph (43.4 mph) |
| Fuel economy | 8.2 l/100 km (29 mpg US / 34 UK) | 10.3 l/100 km (23 mpg US / 27 UK) |
| 100 kph - 0 | 32 m (104 ft) | 32 m (106 ft) |
| 200 kph - 0 | 131 m (428 ft) | 142 m (467 ft) |
Summary
| Category | BMW M4 Competition | BMW M240i |
| --- | --- | --- |
| Track Performance | 200 | 174 |
| Straight line speed | 2191 | 2391 |
| Total | 2391 | 2566 |
Verdict
M240i is the fastest by a small margin.
This comparison has been viewed 2.7k times.
Acceleration graph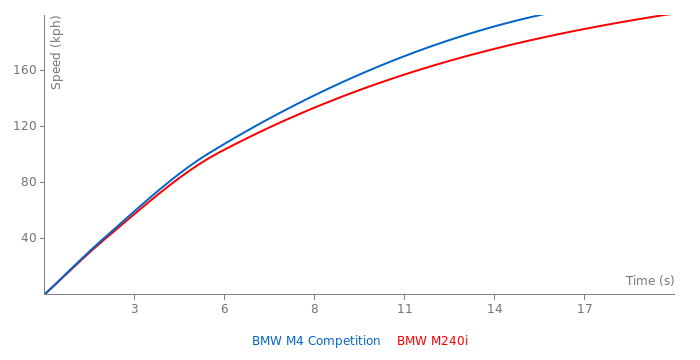 Lambolover 1m ago
M240i is faster than M4
Maybe in a parallel world
---
JonnyA 1m ago
How can you possibly say the m240i is faster ? It loses in every stat ?