McLaren Artura vs Ferrari 296 GTB
| Category | McLaren Artura | Ferrari 296 GTB |
| --- | --- | --- |
| Engine layout | 3.0 l V6 | 3.0 l V6 |
| Max power (ps / bhp) | 680 / 671 | 830 / 819 |
| Max torque (Nm / lb-ft) | 720 / 531 | 740 / 546 |
| Curb weight (kg / lb) | 1498 / 3303 | 1470 / 3241 |
| Power / tonne (ps / bhp) | 454 / 448 | 565 / 557 |
Performance
| Category | McLaren Artura | Ferrari 296 GTB |
| --- | --- | --- |
| 0 - 100 kph | 3.0 s | 2.9 s |
| 0 - 200 kph | 8.3 s | 7.3 s |
| Est. 1000 m | 19.3 s @ 291.0 kph | 18.9 s @ 291.0 kph |
| Est. 100 - 200 kph | 5.3 s | 4.4 s |
| Est. 0 - 60 mph | 2.9 s | 2.8 s |
| Est. 1/8 mile | 7.1 s @ 113.7 mph | 6.9 s @ 119.9 mph |
| Est. 1/4 mile | 10.7 s @ 142.3 mph | 10.4 s @ 148.5 mph |
| Est. 1/2 mile | 16.8 s @ 172.7 mph | 16.4 s @ 174.6 mph |
| Top speed | 330 kph (205 mph) | 330 kph (205 mph) |
| Est. max acceleration | 1.01 g (10 m/s²) | 1.03 g (10 m/s²) |
Summary
| Category | McLaren Artura | Ferrari 296 GTB |
| --- | --- | --- |
| Track Performance | 0 | 0 |
| Straight line speed | 870 | 1000 |
| Total | 870 | 1000 |
Verdict
296 GTB is the fastest by a small margin.
This comparison has been viewed 676 times.
Acceleration graph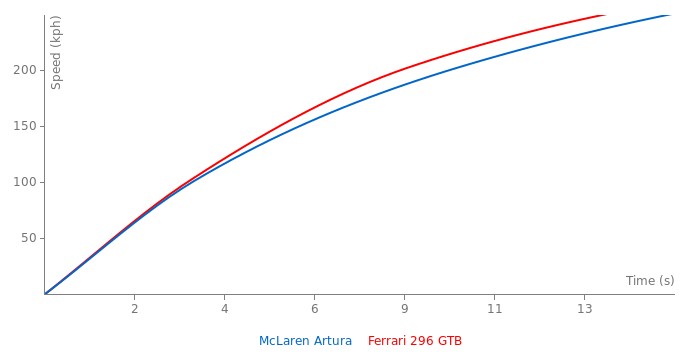 .xxx 4m ago
You should add 200kg to the 296 as ferrari always provide the dry weight
---
FastestLaps 4m ago
Fluids are nowhere near 200 kg. It would be 200 if you measure kerb weight according to fluids (full tank) + 70 kg driver. Not every country does it this way. Hence why fastestlaps.com display a weight range, instead of single number. It is hopeless to come up with single, universal, standardized weight figure for every car.