McLaren F1 vs Ferrari 458 Italia
| Category | Ferrari 458 Italia | McLaren F1 |
| --- | --- | --- |
| Engine layout | 4.5 l V8 | 6.1 l V12 |
| Max power (ps / bhp) | 570 / 562 | 627 / 618 |
| Max torque (Nm / lb-ft) | 540 / 398 | 647 / 477 |
| Curb weight (kg / lb) | 1526 / 3364 | 1199 / 2643 |
| Power / tonne (ps / bhp) | 373 / 368 | 523 / 516 |
Acceleration (mph)
| Speed & distance | Ferrari 458 Italia | McLaren F1 |
| --- | --- | --- |
| 0 - 30 mph | 1.2 s | 1.7 s |
| 0 - 40 mph | 1.7 s | 2.3 s |
| 0 - 50 mph | 2.3 s | 2.9 s |
| 0 - 60 mph | 3.0 s | 3.2 s |
| 0 - 70 mph | 3.7 s | 3.9 s |
| 0 - 80 mph | 4.7 s | 4.5 s |
| 0 - 90 mph | 5.8 s | 5.6 s |
| 0 - 100 mph | 6.2 s | 6.3 s |
| 0 - 120 mph | 8.9 s | 9.2 s |
| 0 - 140 mph | 12.2 s | 11.2 s |
| 0 - 150 mph | 15.0 s | 12.8 s |
| 0 - 160 mph | 17.0 s | 14.6 s |
| 0 - 180 mph | 23.3 s | 20.3 s |
| Est. 1/8 mile | 7.6 s @ 107.5 mph | 7.5 s @ 110.6 mph |
| 1/4 mile | 10.8 s @ 134.2 mph | 10.8 s @ 142.3 mph |
| Est. 1/2 mile | 18.1 s @ 160.3 mph | 17.2 s @ 173.4 mph |
Acceleration (kph)
| Speed & distance | Ferrari 458 Italia | McLaren F1 |
| --- | --- | --- |
| 0 - 40 kph | 1.3 s | 1.5 s |
| 0 - 50 kph | 1.5 s | 1.8 s |
| 0 - 60 kph | 2.0 s | 2.1 s |
| 0 - 80 kph | 2.6 s | 2.7 s |
| 0 - 100 kph | 3.1 s | 3.2 s |
| 0 - 120 kph | 4.5 s | 4.3 s |
| 0 - 140 kph | 5.6 s | 5.1 s |
| 0 - 160 kph | 6.9 s | 6.3 s |
| 0 - 180 kph | 8.2 s | 7.3 s |
| 0 - 200 kph | 9.2 s | 8.8 s |
| 0 - 300 kph | 32.4 s | 20.3 s |
| 1000 m | 19.6 s @ 271.0 kph | 19.0 s @ 292.0 kph |
| Est. 100 - 140 kph | 2.4 s | 1.7 s |
| Est. 100 - 200 kph | 6.7 s | 5.7 s |
| Est. 200 - 300 kph | 22.4 s | 12.1 s |
General performance
| Category | Ferrari 458 Italia | McLaren F1 |
| --- | --- | --- |
| Top speed | 330 kph (205 mph) | 391 kph (243 mph) |
| Est. max acceleration | 0.93 g (9 m/s²) | 0.87 g (8 m/s²) |
| Fuel economy | 11.7 l/100 km (20 mpg US / 24 UK) | 20.4 l/100 km (12 mpg US / 14 UK) |
| Lateral acceleration | 1.08 g (11 m/s²) | 0.86 g (8 m/s²) |
| 60 mph - 0 | 30 m (99 ft) | 39 m (127 ft) |
| 70 mph - 0 | 44 m (143 ft) | 49 m (162 ft) |
Summary
| Category | Ferrari 458 Italia | McLaren F1 |
| --- | --- | --- |
| Track Performance | 100 | 89 |
| Straight line speed | 3359 | 3376 |
| Total | 3459 | 3465 |
Verdict
There is no clear winner in this comparison.
This comparison has been viewed 668 times.
Acceleration graph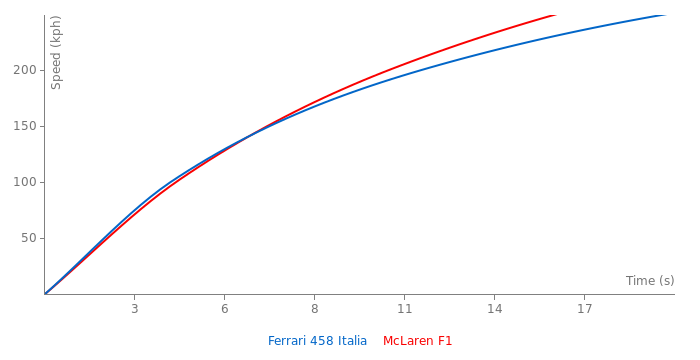 ---
remengo 11y ago
Again a great comparison....my compliments...I wonder if someone will explain to me the criteria set for this funny comparisons based on track laps (in a range of few points, in this case 12!!! for 2.5 sec advantage), and top speed (550 points...)really laughable!!!
---
golf3diesel 11y ago
0-180 faster in F1 faster by 0.4 0-200 slower by 0.2...clearly the real figures arent true for the 458...