Chevrolet Corvette Stingray vs Chevrolet Corvette C8 Stingray
| Category | Corvette Stingray | Corvette C8 Stingray |
| --- | --- | --- |
| Engine layout | 6.2 l V8 | 6.2 l V8 |
| Max power (ps / bhp) | 461 / 455 | 502 / 495 |
| Max torque (Nm / lb-ft) | 609 / 449 | 637 / 470 |
| Curb weight (kg / lb) | 1565 / 3450 | 1642 / 3620 |
| Power / tonne (ps / bhp) | 295 / 291 | 306 / 301 |
Acceleration
| Speed & distance | Corvette Stingray | Corvette C8 Stingray |
| --- | --- | --- |
| 0 - 30 mph | 1.6 s | 1.0 s |
| 0 - 40 mph | 2.2 s | 1.5 s |
| 0 - 50 mph | 3.0 s | 2.1 s |
| 0 - 60 mph | 3.9 s | 2.8 s |
| 0 - 70 mph | 4.8 s | 3.7 s |
| 0 - 80 mph | 6.2 s | 4.6 s |
| 0 - 90 mph | 7.4 s | 5.8 s |
| 0 - 100 mph | 8.6 s | 7.1 s |
| 0 - 130 mph | 15.1 s | 13.2 s |
| 0 - 150 mph | 20.9 s | 19.4 s |
| 1/4 mile | 11.5 s @ 120.5 mph | 11.1 s @ 123.2 mph |
General performance
| Category | Corvette Stingray | Corvette C8 Stingray |
| --- | --- | --- |
| Top speed | 306 kph (190 mph) | 312 kph (194 mph) |
| Lateral acceleration | 1.11 g (11 m/s²) | 1.04 g (10 m/s²) |
| 60 mph - 0 | 28 m (93 ft) | 30 m (97 ft) |
| 70 mph - 0 | 42 m (137 ft) | 45 m (149 ft) |
Summary
| Category | Corvette Stingray | Corvette C8 Stingray |
| --- | --- | --- |
| Track Performance | 93 | 100 |
| Straight line speed | 1049 | 1530 |
| Total | 1142 | 1630 |
Verdict
Corvette C8 Stingray is the fastest by considerable margin.
This comparison has been viewed 68 times.
---
FastestLaps 1m ago
Only if you really really rally like the design of classic front engine Corvette. But even then its not worth the mountain of extra performance you will be sacrificing.
---
benedekpuskas 1m ago @FastestLaps
Both look good.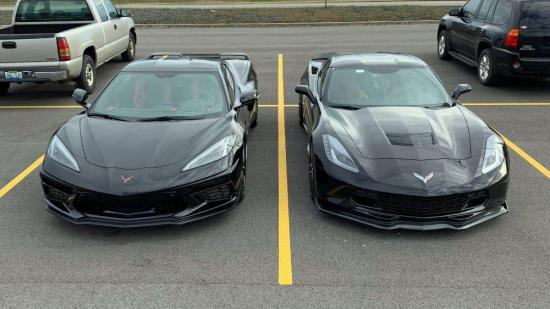 ---
---