McLaren P1 vs McLaren 720S
| Category | McLaren 720S | McLaren P1 |
| --- | --- | --- |
| Max power (ps / bhp) | 720 / 710 | 916 / 903 |
| Max torque (Nm / lb-ft) | 770 / 568 | 900 / 664 |
| Curb weight (kg / lb) | 1429 / 3150 | 1519 / 3349 |
| Power / tonne (ps / bhp) | 504 / 497 | 603 / 595 |
Acceleration (mph)
| Speed & distance | McLaren 720S | McLaren P1 |
| --- | --- | --- |
| 0 - 30 mph | 1.1 s | 1.8 s |
| 0 - 40 mph | 1.6 s | 1.7 s |
| 0 - 60 mph | 2.5 s | 2.6 s |
| 0 - 70 mph | 3.1 s | 3.0 s |
| 0 - 80 mph | 3.7 s | 3.5 s |
| 0 - 90 mph | 4.4 s | 4.1 s |
| 0 - 100 mph | 5.1 s | 4.7 s |
| 0 - 110 mph | 5.9 s | 5.5 s |
| 0 - 120 mph | 6.8 s | 6.3 s |
| 0 - 130 mph | 7.8 s | 7.4 s |
| 0 - 140 mph | 8.9 s | 8.5 s |
| 0 - 150 mph | 10.2 s | 9.9 s |
| Est. 1/8 mile | 6.9 s @ 117.4 mph | 6.7 s @ 122.4 mph |
| 1/4 mile | 9.9 s @ 148.2 mph | 9.8 s @ 152.2 mph |
Acceleration (kph)
| Speed & distance | McLaren 720S | McLaren P1 |
| --- | --- | --- |
| 0 - 50 kph | 1.3 s | 1.2 s |
| 0 - 80 kph | 2.3 s | 2.1 s |
| 0 - 100 kph | 2.6 s | 2.8 s |
| 0 - 200 kph | 7.1 s | 6.8 s |
| 0 - 300 kph | 18.6 s | 16.5 s |
| Est. 100 - 140 kph | 1.8 s | 1.6 s |
| Est. 100 - 200 kph | 4.7 s | 4.1 s |
| Est. 200 - 300 kph | 12.0 s | 10.3 s |
General performance
| Category | McLaren 720S | McLaren P1 |
| --- | --- | --- |
| Top speed | 348 kph (216 mph) | 350 kph (217 mph) |
| Est. 0 - 100 mph - 0 | 9.3 s @ 659 ft | 8.5 s @ 600 ft |
| Est. max acceleration | 1.06 g (10 m/s²) | 1.05 g (10 m/s²) |
| 30 mph - 0 | 8 m (26 ft) | 8 m (26 ft) |
Summary
| Category | McLaren 720S | McLaren P1 |
| --- | --- | --- |
| Track Performance | 591 | 554 |
| Straight line speed | 2324 | 2555 |
| Total | 2915 | 3109 |
Verdict
P1 is the fastest by a small margin.
This comparison has been viewed 32.8k times.
Acceleration graph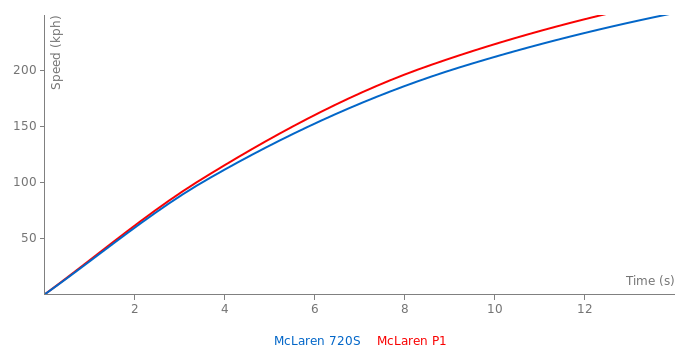 ---
Guru 3y ago
Wow almost identical times to 160mph. And the P1 is faster than the 918 and LaFerrari. People should be comparing the 720S to the LaFerrari - acceleration is matched, and both have butterfly doors, carbon fiber cage, and similar basic design save for the concealed side air intakes on the McLaren. The British and Italian personalities are quite different but the end result is not dissimilar.
---
Fernando 2y ago
Except the 720s is 1/5th of the price of the LaFerrari, and probably faster.
Overall a much more sophisticated and innovative design
---
Axxuhri 3y ago
Im here because The grand tour s2ep4.. both car way too expensive for me
---
King Kong 4y ago
I think for the price difference the 720s is worth it over the P1
---
Car Freak 4y ago
Wow i knew P1 was still in its A game
---
---
---
---