BMW M3 vs BMW M3 Competition Package
| Category | BMW M3 (E92) | M3 Competition |
| --- | --- | --- |
| Engine layout | 4.0 l V8 | 4.0 l V8 |
| Max power (ps / bhp) | 420 / 414 | 420 / 414 |
| Max torque (Nm / lb-ft) | 400 / 295 | 400 / 295 |
| Curb weight (kg / lb) | 1621 / 3574 | 1617 / 3565 |
| Power / tonne (ps / bhp) | 259 / 256 | 260 / 256 |
Summary
| Category | BMW M3 (E92) | M3 Competition |
| --- | --- | --- |
| Track Performance | 489 | 496 |
| Straight line speed | 887 | 979 |
| Total | 1376 | 1475 |
Verdict
M3 Competition Package is the fastest by a small margin.
This comparison has been viewed 3.5k times.
Acceleration graph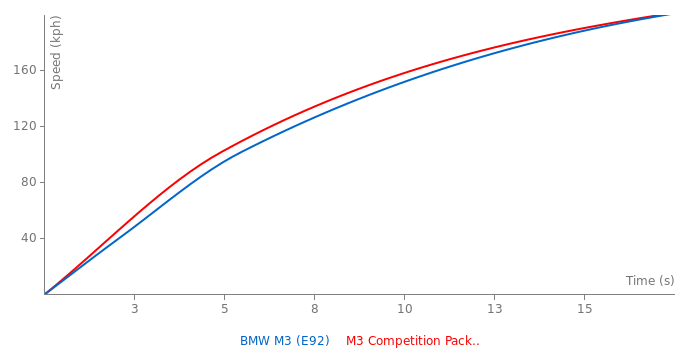 Frankie G 8y ago
The Top Gear lap time is a double-entry. 1:26.5 damp is for (e92) M3 CP and not regular e92 M3.
---
Meero 8y ago
I've driven both RS5 and M3 CP, I find the M3 CP faster with DCT, although RS5 has its moments and some good power delivery in corners. I'd go with the M3 though. For looks, I prefer the RS5.
---