Tesla Model 3 Performance vs Porsche Taycan Turbo S
| Category | Model 3 Performance | Taycan Turbo S |
| --- | --- | --- |
| Max power (ps / bhp) | 487 / 480 | 760 / 750 |
| Max torque (Nm / lb-ft) | 639 / 471 | 1049 / 774 |
| Curb weight (kg / lb) | 1848 / 4074 | 2359 / 5201 |
| Power / tonne (ps / bhp) | 264 / 260 | 322 / 318 |
| Average price | €60,000 | €193,000 |
Acceleration (mph)
| Speed & distance | Model 3 Performance | Taycan Turbo S |
| --- | --- | --- |
| 0 - 30 mph | 1.4 s | 0.9 s |
| 0 - 40 mph | 2.0 s | 1.4 s |
| 0 - 50 mph | 2.5 s | 1.9 s |
| 0 - 60 mph | 3.1 s | 2.4 s |
| 0 - 70 mph | 4.2 s | 3.0 s |
| 0 - 80 mph | 5.3 s | 3.8 s |
| 0 - 90 mph | 6.8 s | 4.6 s |
| 0 - 100 mph | 8.2 s | 5.7 s |
| 0 - 130 mph | 16.2 s | 10.5 s |
| 0 - 150 mph | 27.0 s | 15.2 s |
| 1/4 mile | 11.5 s | 10.2 s |
Acceleration (kph)
| Speed & distance | Model 3 Performance | Taycan Turbo S |
| --- | --- | --- |
| 0 - 40 kph | 1.4 s | 0.9 s |
| 0 - 50 kph | 1.6 s | 1.1 s |
| 0 - 60 kph | 2.0 s | 1.4 s |
| 0 - 80 kph | 2.7 s | 2.1 s |
| 0 - 100 kph | 3.4 s | 2.6 s |
| 0 - 120 kph | 4.8 s | 3.7 s |
| 0 - 130 kph | 5.5 s | 4.0 s |
| 0 - 140 kph | 6.6 s | 4.8 s |
| 0 - 150 kph | 7.2 s | 5.3 s |
| 0 - 160 kph | 8.2 s | 6.0 s |
| 0 - 180 kph | 11.0 s | 7.4 s |
| 0 - 200 kph | 13.6 s | 9.0 s |
| 0 - 250 kph | 30.1 s | 17.7 s |
| 80 - 120 kph | 2.1 s | 1.5 s |
| 100 - 200 kph | 10.1 s | 6.4 s |
General performance
| Category | Model 3 Performance | Taycan Turbo S |
| --- | --- | --- |
| Top speed | 262 kph (163 mph) | 261 kph (162 mph) |
| 0 - 100 mph - 0 | 13.1 s | 9.8 s |
| Est. max acceleration | 0.87 g (8 m/s²) | 1.10 g (11 m/s²) |
| 18m slalom | 67.5 kph (41.9 mph) | 69.0 kph (42.9 mph) |
| Fuel economy | 13.6 kwh/100 km | 19.2 kwh/100 km |
| Lateral acceleration | 0.96 g (9 m/s²) | 1.04 g (10 m/s²) |
Summary
| Category | Model 3 Performance | Taycan Turbo S |
| --- | --- | --- |
| Track Performance | 353 | 400 |
| Straight line speed | 2781 | 4346 |
| Total | 3134 | 4746 |
Verdict
Taycan Turbo S is the fastest by a huge margin.
This comparison has been viewed 315 times.
Acceleration graph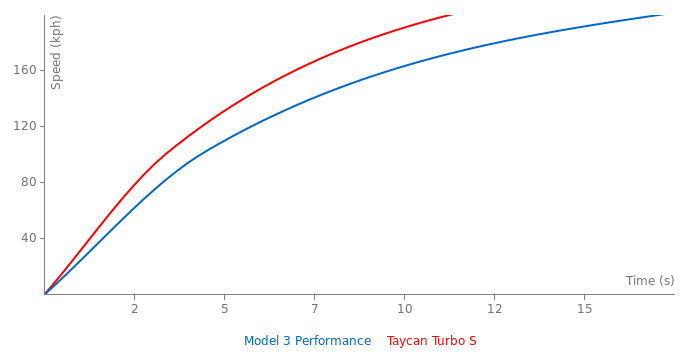 Name 3y ago
I remember when people said the model 3 performance would be just as fast as the taycan.
---
Cocobe 3y ago
I think that was based on the nurburgring lap Porsche did, 7:42, which was literally slower than a Renault FWD hatchback.
perhaps Porsche have recalibrated the car and fixed many of the handling, as well as turning up the electric boost to 11. If the Taycan Turbo S being more than 3x the price isn't faster, we'd be really worried.
It would be interesting to see if the 2x as expensive regular Taycan compare to the Model 3 performance. The Taycan is quoted at 0-60 in 4.0s.