Dodge Challenger SRT-8 Hellcat vs Jaguar F-Type R Coupe
| Category | F-Type R Coupe | Challenger SRT-8 |
| --- | --- | --- |
| Engine layout | 5.0 l V8 | 6.4 l V8 |
| Max power (ps / bhp) | 550 / 542 | 717 / 707 |
| Max torque (Nm / lb-ft) | 680 / 502 | 881 / 650 |
| Curb weight (kg / lb) | 1665 / 3671 | 1960 / 4321 |
| Power / tonne (ps / bhp) | 330 / 326 | 366 / 361 |
Acceleration (mph)
| Speed & distance | F-Type R Coupe | Challenger SRT-8 |
| --- | --- | --- |
| 0 - 60 mph | 3.4 s | 3.6 s |
| 0 - 100 mph | 8.0 s | 7.6 s |
| 0 - 150 mph | 19.1 s | 17.0 s |
| Est. 1/8 mile | 8.2 s @ 101.9 mph | 8.0 s @ 105.6 mph |
| 1/4 mile | 11.7 s @ 122.4 mph | 11.7 s |
| Est. 1/2 mile | 19.3 s @ 149.7 mph | 18.7 s @ 158.4 mph |
| Est. 1 mile | 31.7 s @ 173.4 mph | 30.3 s @ 179.0 mph |
Acceleration (kph)
| Speed & distance | F-Type R Coupe | Challenger SRT-8 |
| --- | --- | --- |
| 0 - 50 kph | 1.4 s | 2.0 s |
| 0 - 80 kph | 2.8 s | 3.2 s |
| 0 - 100 kph | 3.8 s | 3.9 s |
| 0 - 130 kph | 5.8 s | 5.5 s |
| 0 - 200 kph | 12.4 s | 10.7 s |
| 0 - 250 kph | 21.3 s | 18.3 s |
| 1000 m | 21.2 s | 20.8 s |
| Est. 100 - 200 kph | 8.6 s | 6.8 s |
General performance
| Category | F-Type R Coupe | Challenger SRT-8 |
| --- | --- | --- |
| Top speed | 317 kph (197 mph) | 320 kph (199 mph) |
| Est. max acceleration | 0.79 g (8 m/s²) | 0.76 g (8 m/s²) |
| Lateral acceleration | 1.00 g (10 m/s²) | 0.94 g (9 m/s²) |
Summary
| Category | F-Type R Coupe | Challenger SRT-8 |
| --- | --- | --- |
| Track Performance | 300 | 294 |
| Straight line speed | 1572 | 1661 |
| Total | 1872 | 1955 |
Verdict
There is no clear winner in this comparison.
This comparison has been viewed 6.1k times.
Acceleration graph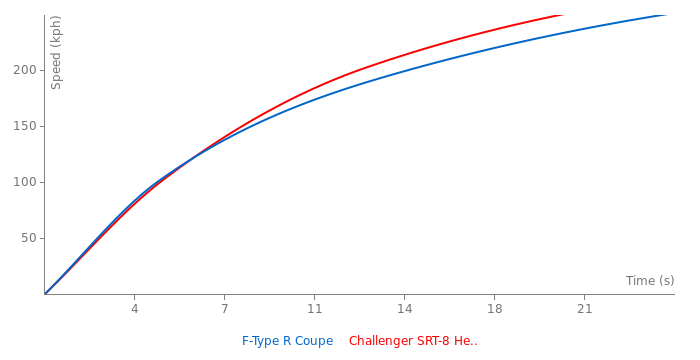 ---
cosimo 4y ago
i hear ya, but the crash test indicates it's not a bad car if you wish to turn into a murican tuna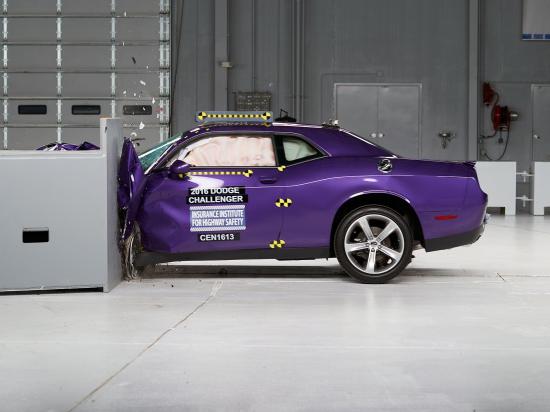 ---
---
cosimo 4y ago
"If your going to try and insult a country and company at least get the name right"
coming from a fatass two-faced schmuck that pretends he's open to every race out there lololololol
---
Hanss 6y ago
I was thinking that test model s is slow because it's electric... Now I see its slow because it's American. Only Americans can make 700ps car that is slow as f...
---
Jon 4y ago
Only europe can get away with making all of their cars out of trash and feces and still maintain a brand. What's the value of any 2008 BMW? worthless that's right.
---

BR2+ 6y ago
There pretty much the same in acceleration, One Awd one Rwd, Both manual and auto options(Thanks!) one has more power, One has more weight. If you actually looked at the times from the 2 tracks, There even, So there goes your BS out the window.
As far as style is concerned, Its irrelevant, might as well say green is the worlds best color, The Jaguar is plain gorgeous, The HellCat is plain awesome, As for quality, We all no the Jag has better quality, Like we dont need to hear the difference in quality every time 2 cars are compared, Are you gonna tell us the sky is blue next? But quality alone, Is that worth 2 1/2 times the price? Not in my book, Fact is, There is no loser here.
---
PolkNole 6y ago
Shaggy, how exactly did the Hellcat win? By the way people drive 99.99% of the time, the Jaguar wins. The only thing the Hellcat wins in is a long straight race.
And as far as style and quality, it's a complete slaughter.
---
---