Ford Mustang Shelby GT500 vs Chevrolet Corvette Stingray
| Category | Mustang Shelby GT500 | Corvette Stingray |
| --- | --- | --- |
| Engine layout | 5.2 l V8 | 6.2 l V8 |
| Max power (ps / bhp) | 771 / 760 | 502 / 495 |
| Max torque (Nm / lb-ft) | 847 / 625 | 637 / 470 |
| Curb weight (kg / lb) | 1875 / 4134 | 1646 / 3629 |
| Power / tonne (ps / bhp) | 411 / 405 | 305 / 301 |
| Average price | €129,000 | €99,000 |
Acceleration (mph)
| Speed & distance | Mustang Shelby GT500 | Corvette Stingray |
| --- | --- | --- |
| 0 - 30 mph | 1.6 s | 1.0 s |
| 0 - 40 mph | 2.3 s | 1.5 s |
| 0 - 50 mph | 2.9 s | 2.1 s |
| 0 - 60 mph | 3.4 s | 2.8 s |
| 0 - 70 mph | 4.3 s | 3.7 s |
| 0 - 80 mph | 5.1 s | 4.6 s |
| 0 - 90 mph | 6.0 s | 5.8 s |
| 0 - 100 mph | 7.0 s | 7.1 s |
| 0 - 110 mph | 8.2 s | 8.7 s |
| 0 - 120 mph | 9.6 s | 10.7 s |
| 0 - 130 mph | 11.1 s | 13.2 s |
| 0 - 140 mph | 12.9 s | 15.9 s |
| 0 - 150 mph | 15.1 s | 19.4 s |
| 0 - 160 mph | 18.1 s | 25.6 s |
| Est. 1/8 mile | 8.3 s @ 105.0 mph | 8.0 s @ 101.9 mph |
| 1/4 mile | 11.3 s @ 131.6 mph | 11.1 s @ 123.2 mph |
Acceleration (kph)
| Speed & distance | Mustang Shelby GT500 | Corvette Stingray |
| --- | --- | --- |
| 0 - 40 kph | 1.7 s | 1.1 s |
| 0 - 50 kph | 1.6 s | 1.3 s |
| 0 - 80 kph | 3.0 s | 2.4 s |
| 0 - 100 kph | 3.9 s | 2.9 s |
| 0 - 130 kph | 5.5 s | 5.3 s |
| 0 - 160 kph | 7.5 s | 7.6 s |
| 0 - 180 kph | 9.6 s | 9.8 s |
| 0 - 200 kph | 10.8 s | 12.0 s |
| 0 - 250 kph | 21.9 s | 22.1 s |
Rolling acceleration
| Speed | Mustang Shelby GT500 | Corvette Stingray |
| --- | --- | --- |
| 60 - 100 kph (4) | 4.3 s | 3.4 s |
| 60 - 100 kph (5) | 5.5 s | 4.9 s |
| 80 - 120 kph (5) | 4.8 s | 4.8 s |
| 80 - 120 kph (6) | 7.5 s | 6.9 s |
| 80 - 120 kph (7) | 10.9 s | 10.0 s |
| 100 - 200 kph | 6.2 s | 9.6 s |
General performance
| Category | Mustang Shelby GT500 | Corvette Stingray |
| --- | --- | --- |
| Top speed | 293 kph (182 mph) | 312 kph (194 mph) |
| 0 - 100 mph - 0 | 10.7 s | 10.8 s |
| Est. max acceleration | 0.71 g (7 m/s²) | 0.89 g (9 m/s²) |
| Fuel economy | 17.1 l/100 km (14 mpg US / 17 UK) | 9.0 l/100 km (26 mpg US / 31 UK) |
| Lateral acceleration | 1.16 g (11 m/s²) | 1.11 g (11 m/s²) |
Summary
| Category | Mustang Shelby GT500 | Corvette Stingray |
| --- | --- | --- |
| Track Performance | 596 | 570 |
| Straight line speed | 3545 | 4175 |
| Total | 4141 | 4744 |
Verdict
Corvette Stingray is the fastest by a small margin.
This comparison has been viewed 730 times.
Acceleration graph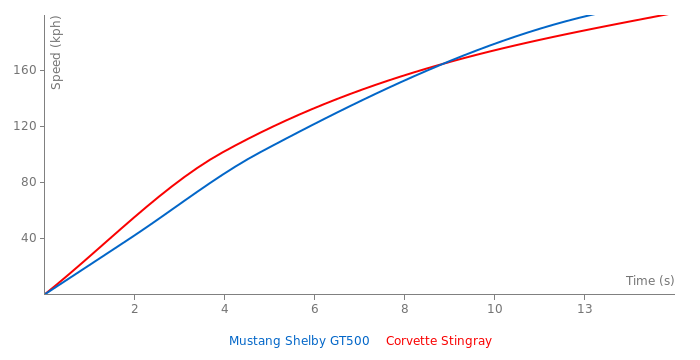 SheblyGT500 11m ago
I think this proves that the new GT500 is a super car as well as the c8 corvette
---

---
---
hostboy 11m ago @Corvolet3
The C8 Corvette is a closeted pig. It'll end up almost like a Mustang II, slower than the generation before it. Without launch control the C8 is slower post-60mph than the C7 (this is WHY the cars aren't allowed to rev past 5000rpm within the first 500mi), and that applies especially to the Stingray and Z06 versions.
---