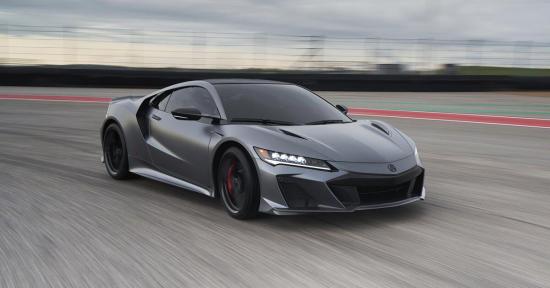 Acura NSX Type S (Mk II) specs
| | |
| --- | --- |
| Car type | Coupe |
| Curb weight | 1705 kg (3759 lbs) |
| Dimensions | 4.47 m (176 in) long, 1.94 m (76 in) wide, 1.22 m (48 in) high |
| Wheelbase | 2.63 m (104 in) |
| Years built | 2022 - 2022 |
| Origin country | Japan |
| Views | 433 |
| Submitted by | 196ss |
Powertrain specs
| | |
| --- | --- |
| Engine type | Twin-Turbo 75-Degree V6 Hybrid |
| Displacement | 3.5 l (213 ci / 3492 cc) |
| Power | 608 ps (600 bhp / 447 kw) |
| Torque | 667 Nm (492 lb-ft) |
| Power / liter | 174 ps (172 hp) |
| Power / weight | 357 ps (352 bhp) / t |
| Torque / weight | 391 Nm (289 lb-ft) / t |
| Transmission | 9-speed DCT |
| Layout | middle engine, all wheel drive |
NSX Type S competition
---
---
---

benedekpuskas 2m ago
I guess they didn't want to give it power because the competition is very tough in the 650-750 horsepower range. 992 Turbo S, for example.
---
---
196ss 2m ago
Honda claimed that Type S is 2 seconds faster at Suzuka circuit than 2019-2021 NSX. This is approximately 1,3-1,4% difference.
So, given the base NSX wasn't really fast on tracks, we shouldn't expect records from Type S. But it could give fair competition to 911 Turbo and R8 in it's price range.
---