| | |
| --- | --- |
| Price in Europe | €89,000 - €100,500 |
| Price in US | $82,040 - $97,790 |
| Car type | SUV/truck |
| Curb weight | 1908-1966 kg (4206-4334 lbs) |
| Introduced | 2017 |
| Origin country | Italy |
| Gas mileage | 29.9-8.5 l/100 km (8-28 mpg US / 9-33 mpg UK) |
| CO2 emissions | 227 - 344 g/km |
| Views | 17.7k |
| Submitted by | hyperspeedd |
Performance
| | |
| --- | --- |
| 0 - 40 kph | 1.6 s |
| 0 - 50 kph | 1.5 s |
| 0 - 60 kph | 2.0 s |
| 0 - 70 kph | 2.8 s |
| 0 - 80 kph | 2.8 s |
| 0 - 90 kph | 3.8 s |
| 0 - 100 kph | 3.6 s |
| 0 - 120 kph | 5.2 s |
| 0 - 130 kph | 5.8 s |
| 0 - 140 kph | 6.8 s |
| 0 - 150 kph | 7.7 s |
| 0 - 160 kph | 8.6 s |
| 0 - 180 kph | 11.0 s |
| 0 - 200 kph | 13.8 s |
| 0 - 230 kph | 20.3 s |
| 0 - 240 kph | 23.5 s |
| 1000 m | 21.7 s @ 239.5 kph |
| 0 - 60 mph | 3.5 s |
| 0 - 100 mph | 8.6 s |
| Est. 1/8 mile | 8.4 s @ 100.0 mph |
| 1/4 mile | 11.8 s @ 116.1 mph |
| Top speed | 286 kph (177 mph) |
| 0 - 100 mph - 0 | 23.5 s |
| Est. max acceleration | 0.82 g (8 m/s²) |
| 18m slalom | 66.3 kph (41.2 mph) |
| Lateral acceleration | 0.93 g (9 m/s²) |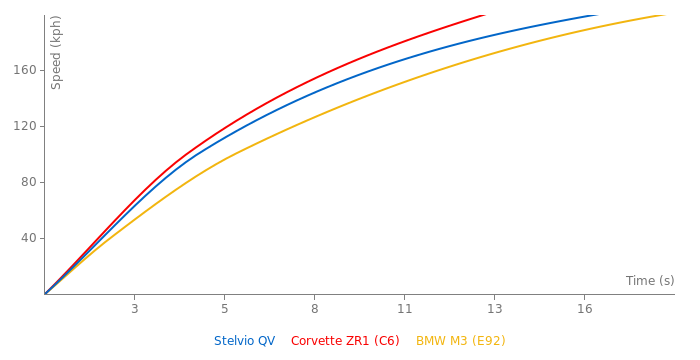 Powertrain specs
| | |
| --- | --- |
| Engine type | Twin Turbo V6 |
| Displacement | 2.9 l (177 ci) |
| Power | 510 ps (503 bhp / 375 kw) |
| Torque | 600 Nm (443 lb-ft) |
| Power / liter | 176 ps (173 hp) |
| Power / weight | 264 ps (260 bhp) / t |
| Torque / weight | 311 Nm (229 lb-ft) / t |
| Efficiency | 36 PS per l/100 km |
| Power / €5000 | 27 ps |
| Transmission | Automatic Transmission |
| Layout | front engine, all wheel drive |
Rolling acceleration
| | |
| --- | --- |
| 60 - 100 kph (4) | 2.7 s |
| 60 - 100 kph (5) | 3.5 s |
| 80 - 120 kph (5) | 3.6 s |
| 80 - 120 kph (6) | 4.9 s |
| 80 - 120 kph (7) | 7.0 s |
| 100 - 140 kph (4) | 3.1 s |
| 60 - 100 kph | 1.9 s |
| 70 - 90 kph | 2.1 s |
| 70 - 120 kph | 4.0 s |
| 70 - 130 kph | 4.8 s |
| 80 - 120 kph | 2.3 s |
| Est. 100 - 140 kph | 3.1 s |
| Est. 100 - 200 kph | 10.2 s |
Interior noise
| | |
| --- | --- |
| Noise @ idle | 50 dB |
| Noise @ 50 kph | 57 dB |
| Noise @ 80 kph | 66 dB |
| Noise @ 100 kph | 65 dB |
| Noise @ 130 kph | 69 dB |
| Noise @ 160 kph | 73 dB |
| Noise @ 180 kph | 76 dB |
Stelvio QV competition
---
FastestLaps 5m ago
And how much faster would it be if it wasn't so tall? Like, I don't know, hmmm. Giulia QV?
---
---
FastestLaps 4y ago
Give me the date/number of Autozeitung where this was published and I''ll add everything.
---
---
---
---
Murmur 7y ago
The Stelvio will have the same 90 degrees V6 engine of the Giulia Quadrifoglio, derived from the Ferrari F154 V8 family, while the Levante has a 60 degrees V6 engine derived from the Ferrari F160 family and already used in Quattroporte and Ghibli. I think that the Stelvio uses the same platform as Giulia.
---
---
FastestLaps 7y ago
Does this share platform and/or engine with Maserati Levante?