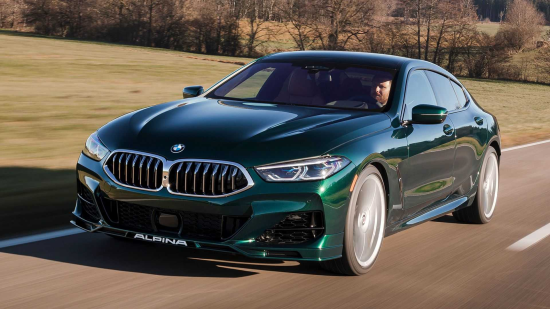 Alpina B8 Gran Coupe specs
| | |
| --- | --- |
| Price in Europe | €161,200 - €184,840 |
| Price in US | $140,895 - $148,095 |
| Car type | 4-door saloon |
| Curb weight | 2115-2134 kg (4663-4705 lbs) |
| Introduced | 2021 |
| Origin country | Germany |
| Gas mileage | 15.4-9.3 l/100 km (15-25 mpg US / 18-30 mpg UK) |
| Insurance group | 50 / 50 |
| Views | 592 |
| Submitted by | Hoppelmoppel123 |
Acceleration (mph)
| | |
| --- | --- |
| 0 - 30 mph | 1.6 s |
| 0 - 40 mph | 2.2 s |
| 0 - 50 mph | 2.8 s |
| 0 - 60 mph | 3.2 s |
| 0 - 70 mph | 4.4 s |
| 0 - 80 mph | 5.4 s |
| 0 - 90 mph | 6.5 s |
| 0 - 100 mph | 7.8 s |
| 0 - 110 mph | 9.3 s |
| 0 - 120 mph | 11.1 s |
| 0 - 130 mph | 13.2 s |
| 0 - 140 mph | 15.6 s |
| 0 - 150 mph | 18.8 s |
| 0 - 160 mph | 22.3 s |
| Est. 1/8 mile | 7.8 s @ 105.0 mph |
| 1/4 mile | 11.3 s |
| Est. 1/2 mile | 18.8 s @ 152.2 mph |
| Est. 1 mile | 31.2 s @ 174.6 mph |
Acceleration (kph)
| | |
| --- | --- |
| 0 - 40 kph | 1.2 s |
| 0 - 50 kph | 1.4 s |
| 0 - 80 kph | 2.4 s |
| 0 - 100 kph | 3.2 s |
| 0 - 120 kph | 4.6 s |
| 0 - 130 kph | 4.8 s |
| 0 - 140 kph | 5.9 s |
| 0 - 160 kph | 6.9 s |
| 0 - 180 kph | 8.7 s |
| 0 - 200 kph | 10.7 s |
| 0 - 220 kph | 14.2 s |
| 0 - 240 kph | 17.8 s |
| 0 - 260 kph | 22.3 s |
| 0 - 280 kph | 28.9 s |
| 1000 m | 21.1 s @ 252.7 kph |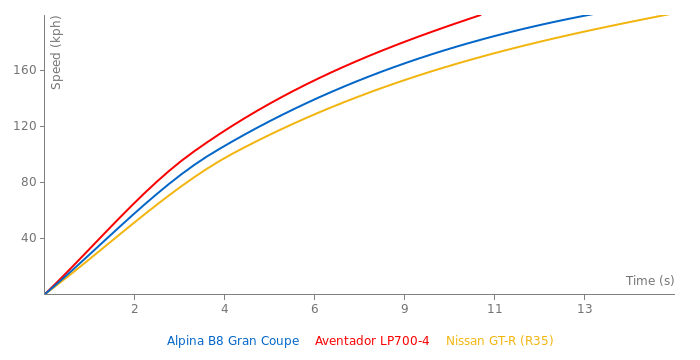 General performance
| | |
| --- | --- |
| Top speed | 324 kph (201 mph) |
| Est. 0 - 100 mph - 0 | 10.7 s @ 738 ft |
| Est. max acceleration | 0.92 g (9 m/s²) |
| 18m slalom | 68.4 kph (42.5 mph) |
| Emissions | 300 g/km |
| Lateral acceleration | 1.01 g (10 m/s²) |
Powertrain specs
| | |
| --- | --- |
| Engine type | V8 Biturbo |
| Displacement | 4.4 l (268 ci / 4395 cc) |
| Power | 621 ps (613 bhp / 457 kw) |
| Torque | 800 Nm (590 lb-ft) |
| Power / liter | 141 ps (139 hp) |
| Power / weight | 292 ps (288 bhp) / t |
| Torque / weight | 376 Nm (278 lb-ft) / t |
| Efficiency | 48 PS per l/100 km |
| Power / €5000 | 18 ps |
| Transmission | 8 speed automatic |
| Layout | front engine, all wheel drive |
Rolling acceleration
| | |
| --- | --- |
| 60 - 100 kph (4) | 2.6 s |
| 60 - 100 kph (5) | 3.4 s |
| 80 - 120 kph (4) | 2.8 s |
| 80 - 120 kph (5) | 3.3 s |
| 80 - 120 kph (6) | 4.7 s |
| 80 - 120 kph (7) | 6.0 s |
| 80 - 120 kph (8) | 11.3 s |
| 80 - 160 kph (4) | 5.7 s |
| 80 - 160 kph (5) | 7.5 s |
| 80 - 160 kph (6) | 10.0 s |
| 80 - 160 kph (7) | 12.8 s |
| 80 - 160 kph (8) | 20.7 s |
| 60 - 100 kph | 1.5 s |
| 80 - 120 kph | 2.0 s |
| Est. 100 - 140 kph | 2.6 s |
| Est. 100 - 200 kph | 8.0 s |
Interior noise
| | |
| --- | --- |
| Noise @ idle | 43 dB |
| Noise @ 80 kph | 63 dB |
| Noise @ 100 kph | 65 dB |
| Noise @ 130 kph | 67 dB |
| Noise @ 160 kph | 70 dB |
| Noise @ 180 kph | 72 dB |
B8 Gran Coupe competition
---
---
flt158 1y ago
Hello Hoppelmoppel123.
You're definitely on the ball issuing these performance figures of the Alpina B8 Gran Coupe.
Yours truly managed to purchase a copy yesterday (23/09/21) in Dublin Ireland. British Brexit can make it rather difficult to buy an English car magazine these days.
Of course I haven't yet the excellent road test of the B8. But I will very soon.
It seems that Autocar is testing about 3 fast cars a month in recent times.
Great!
Safe driving.
Flt 158