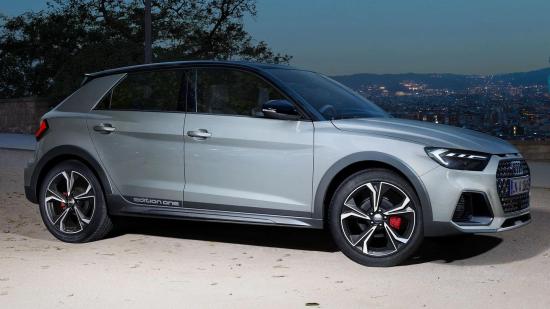 Audi A1 30 TFSI Citycarver (Mk II) specs
| | |
| --- | --- |
| Price in Europe | €33,300 - €41,375 |
| Car type | Compact |
| Curb weight | 1225 kg (2701 lbs) |
| Introduced | 2020 |
| Origin country | Germany |
| Gas mileage | 6.3 l/100 km (37 mpg US / 45 mpg UK) |
| Views | 143 |
| Submitted by | FastestLaps |
Performance
| | |
| --- | --- |
| 0 - 60 kph | 4.2 s |
| 0 - 80 kph | 6.4 s |
| 0 - 100 kph | 9.5 s |
| 0 - 120 kph | 13.6 s |
| 0 - 140 kph | 19.9 s |
| 0 - 160 kph | 30.5 s |
| 100 m | 7.2 s @ 86.6 kph |
| 1000 m | 31.4 s @ 161.1 kph |
| 80 - 120 kph | 7.2 s |
| Est. 100 - 140 kph | 10.6 s |
| 1/4 mile | 16.9 s @ 81.6 mph |
| Top speed | 191 kph (119 mph) |
| Est. emissions | 150 g/km |
Powertrain specs
Engine type
Inline 3 turbo
Displacement

1.0 l (61 ci / 998 cc)

Power

116 ps (114 bhp / 85 kw)

@ 5500 rpm
Torque

200 Nm (148 lb-ft)

@ 2000 rpm
Power / liter

116 ps (115 hp)

Power / weight

95 ps (93 bhp) / t

Torque / weight

163 Nm (120 lb-ft) / t

Efficiency
18 PS per l/100 km
Power / €5000

16 ps

Transmission
7 speed dual clutch automatic
Layout
front engine, front wheel drive
Braking distance
| | |
| --- | --- |
| 60 kph - 0 | 13 m (42 ft) |
| 100 kph - 0 | 34 m (111 ft) |
| 120 kph - 0 | 48 m (156 ft) |
| 140 kph - 0 | 64 m (212 ft) |
| 160 kph - 0 | 86 m (281 ft) |
Interior noise
| | |
| --- | --- |
| Noise @ 50 kph | 64 dB |
| Noise @ 80 kph | 66 dB |
| Noise @ 100 kph | 70 dB |
| Noise @ 130 kph | 72 dB |
| Noise @ 160 kph | 77 dB |
| Noise @ 180 kph | 83 dB |
---
FastestLaps 8m ago
It would take the crown from A45 AMG as the most bonkers hatchback in the world. Obviously it would be more compact than A class and the 2.5 engine would make the same power. Speaking of which, the Sport Auto measured 456 PS for the A45 AMG S engine. That is crazy for a 4 cylinder.
---
---
benedekpuskas 8m ago @Hans
Yeah new RS3 will have at least 400 hp so it will be the true competition for the A45,
I disliked the comment by accident because on mobile phone it's easy to press the wrong icon
---
FastestLaps 8m ago
Very expensive for a supermini. You can buy a car several classes larger for the same money.