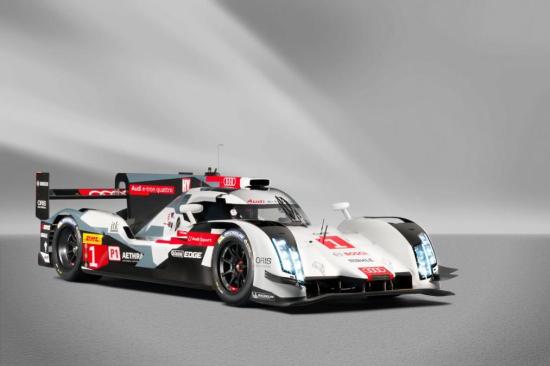 Audi R18 e-Tron Quattro specs
| | |
| --- | --- |
| Car type | Open-wheeler |
| Years built | 2014 - 2015 |
| Origin country | Germany |
| Views | 43.4k |
| Submitted by | FastestLaps |
Acceleration (mph)
| | |
| --- | --- |
| Est. 0 - 30 mph | 1.0 s |
| Est. 0 - 40 mph | 1.3 s |
| Est. 0 - 50 mph | 1.6 s |
| Est. 0 - 60 mph | 1.9 s |
| Est. 0 - 70 mph | 2.3 s |
| Est. 0 - 80 mph | 2.6 s |
| Est. 0 - 90 mph | 3.1 s |
| Est. 0 - 100 mph | 3.5 s |
| Est. 0 - 110 mph | 4.0 s |
| Est. 0 - 120 mph | 4.5 s |
| Est. 0 - 130 mph | 5.1 s |
| Est. 0 - 140 mph | 5.8 s |
| Est. 0 - 150 mph | 6.5 s |
| Est. 0 - 160 mph | 7.4 s |
| Est. 0 - 170 mph | 8.4 s |
| Est. 0 - 180 mph | 9.5 s |
| Est. 1/8 mile | 5.7 s @ 139.2 mph |
| Est. 1/4 mile | 8.6 s @ 171.5 mph |
| Est. 1/2 mile | 13.8 s @ 188.9 mph |
Acceleration (kph)
| | |
| --- | --- |
| Est. 0 - 40 kph | 0.8 s |
| Est. 0 - 50 kph | 1.0 s |
| Est. 0 - 60 kph | 1.3 s |
| Est. 0 - 70 kph | 1.5 s |
| Est. 0 - 80 kph | 1.6 s |
| Est. 0 - 90 kph | 1.8 s |
| Est. 0 - 100 kph | 2.0 s |
| Est. 0 - 110 kph | 2.2 s |
| Est. 0 - 120 kph | 2.5 s |
| Est. 0 - 130 kph | 2.7 s |
| Est. 0 - 140 kph | 2.9 s |
| Est. 0 - 150 kph | 3.2 s |
| Est. 0 - 160 kph | 3.5 s |
| Est. 0 - 170 kph | 3.8 s |
| Est. 0 - 180 kph | 4.1 s |
| Est. 0 - 190 kph | 4.4 s |
| Est. 0 - 200 kph | 4.8 s |
| Est. 0 - 210 kph | 5.1 s |
| Est. 0 - 220 kph | 5.6 s |
| Est. 0 - 230 kph | 6.0 s |
| Est. 0 - 240 kph | 6.4 s |
| Est. 0 - 250 kph | 7.0 s |
| Est. 0 - 260 kph | 7.5 s |
| Est. 0 - 270 kph | 8.1 s |
| Est. 0 - 280 kph | 9.1 s |
| Est. 0 - 290 kph | 10.7 s |
| Est. 0 - 300 kph | 12.8 s |
| Est. 100 m | 3.9 s @ 176.0 kph |
| Est. 1000 m | 16.1 s @ 312.0 kph |
| Est. 100 - 140 kph | 1.0 s |
| Est. 100 - 200 kph | 2.8 s |
| Est. 200 - 300 kph | 8.0 s |
Powertrain specs
| | |
| --- | --- |
| Engine type | V6 turbo diesel |
| Displacement | 3.7 l (226 ci) |
| Transmission | 7 speed sequential manual |
| Layout | middle engine, all wheel drive |
Braking distance
| | |
| --- | --- |
| Est. 60 kph - 0 | 9 m (28 ft) |
| Est. 100 kph - 0 | 22 m (72 ft) |
| Est. 120 kph - 0 | 30 m (98 ft) |
| Est. 130 kph - 0 | 35 m (114 ft) |
| Est. 140 kph - 0 | 41 m (134 ft) |
| Est. 160 kph - 0 | 54 m (177 ft) |
| Est. 180 kph - 0 | 68 m (225 ft) |
| Est. 190 kph - 0 | 75 m (245 ft) |
| Est. 200 kph - 0 | 79 m (260 ft) |
| Est. 300 kph - 0 | 189 m (621 ft) |
| Est. 30 mph - 0 | 6 m (18 ft) |
| Est. 50 mph - 0 | 15 m (48 ft) |
| Est. 60 mph - 0 | 20 m (67 ft) |
| Est. 70 mph - 0 | 27 m (89 ft) |
R18 e-Tron Quattro competition
Cifer 4m ago
had 6:18:547 few days ago on tourist layout but with traffic (asseto corsa - vr - online trackday)
---
Colton J 1y ago
anybody know a nurburgring lap time? I've got it round in fm6 in 7.49 but I want to beat the real time
---
FastestLaps 1y ago
Somewhere around 6 minutes. Here is 5:19.54 with much newer and more powerful Porsche 919 EVO in full time attack trim.
These LMP1 cars are nuts fast.
---
SpeedKing 1y ago @FastestLaps
The Audi R18 e-Tron Quattro should be capable of a sub 6 min lap based on the Porsche 919 Evo's insanely fast lap.
---
Cocobe 1y ago @SpeedKing
I heard 5:45 was about where the 919 should be able to do it at. I guess they could gain a few seconds if they pushed the boundaries more, and that if there was more race rubber laid down. I'm sure the 919 evo could have gone faster too but what's the reward to do so when the risk of crashing would be counterproductive to their marketing
---
SpeedExotics 3y ago
drive one in forza motorsport 6 or 7
---
Fastedee 4y ago
In peak G's not much different than a 991 Turbo S. However between 100-200 27.75 ÷ 2.8 =9.95 ÷ 9.65 = 1.03 g! average. The 991Turbo S = 4.2÷9.65 = .44 g average...less than half. The LaFerrari would be 6.65÷ 9.65 or only .68 g average 100-200. A dragster at .8 to 100 = 33÷9.65 or 3.4 g average. Human could survive 0-100 in .25 which is basically impossible.Fighter pilot could survive 0-100 in 0.15.
---
---
FastestLaps 4y ago @saxy
Only when launching on aircraft carrier catapult :D
---
FastestLaps 4y ago
Crazy fast off the line. Falls back slightly above 150, compared to Toyota or Porsche.