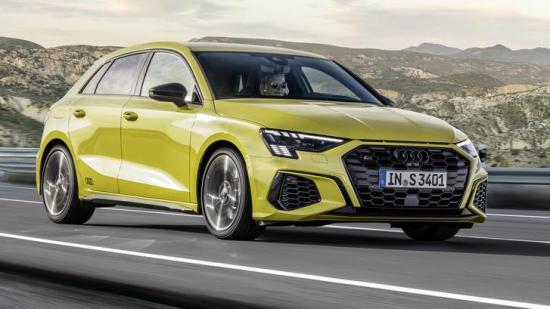 Audi S3 Sportback (9V) specs
| | |
| --- | --- |
| Car type | Compact |
| Introduced | 2020 |
| Origin country | Germany |
| Views | 217 |
| Submitted by | benedekpuskas |
Powertrain specs
| | |
| --- | --- |
| Engine type | Inline 4 Turbo |
| Displacement | 2.0 l (122 ci) |
| Power | 310 ps (306 bhp / 228 kw) |
| Torque | 400 Nm (295 lb-ft) |
| Power / liter | 155 ps (153 hp) |
| Transmission | 7-seed automatic |
| Layout | front engine, all wheel drive |
S3 Sportback competition
Rubbu 1m ago
Automann-TV did 11.8 sec from 100 to 200kph
Impressive.
---
Telboy 3w ago
I wonder what power the press car really had under the Bonnet to do that time, after all the VAG group don't lie do they! Bit like a 2.5t VW Hybrid doing it in 12.8, same issue, let's wait to see what the non press spiked cars do in the real world :-)
---
benedekpuskas 3m ago
Audi claims 250 km/h electronically limited top speed.