Bentley Bentayga Diesel specs
| | |
| --- | --- |
| Price in Europe | €174,335 - €266,295 |
| Car type | SUV/truck |
| Curb weight | 2505-2708 kg (5523-5970 lbs) |
| Introduced | 2017 |
| Origin country | Germany |
| Fuel consumption | 12.2-9.8 l/100 km (19-24 mpg US / 23-29 mpg UK) |
| CO2 emissions | 260 - 266 g/km |
| Views | 3.6k |
| Submitted by | FastestLaps |
Acceleration
| | |
| --- | --- |
| 0 - 50 kph | 1.9 s |
| 0 - 100 kph | 5.2 s |
| 0 - 130 kph | 8.3 s |
| 0 - 150 kph | 10.9 s |
| 0 - 160 kph | 12.4 s |
| 0 - 200 kph | 20.5 s |
| Est. 0 - 60 mph | 5.0 s |
| Est. 1/8 mile | 9.6 s @ 89.5 mph |
| 1/4 mile | 13.5 s |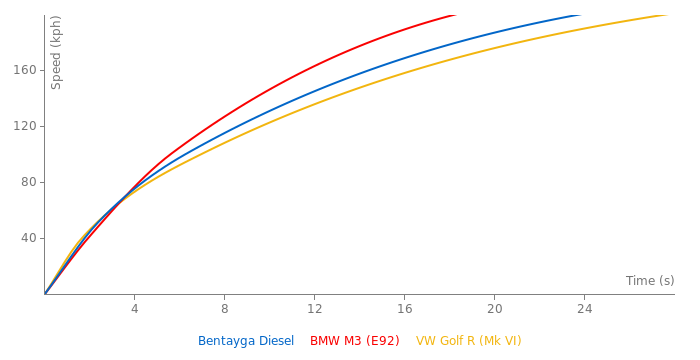 General performance
| | |
| --- | --- |
| Top speed | 270 kph (168 mph) |
| Est. max acceleration | 0.59 g (6 m/s²) |
| 18m slalom | 62.9 kph (39.1 mph) |
| 50 kph - 0 | 9 m (31 ft) |
| 100 kph - 0 | 36 m (116 ft) |
| Noise @ idle | 43 dB |
| Noise @ 100 kph | 60 dB |
| Noise @ 130 kph | 66 dB |
Powertrain specs
Engine type
V8 twin turbo diesel
Displacement

4.0 l (241 ci / 3956 cc)

Power

435 ps (429 bhp / 320 kw)

@ 3750 rpm
Torque

900 Nm (664 lb-ft)

@ 1000 rpm
Power / liter

110 ps (108 hp)

Power / weight

166 ps (163 bhp) / t

Torque / weight

343 Nm (253 lb-ft) / t

Efficiency
39 PS per l/100 km
Power / €5000

11 ps

Transmission
8 speed automatic
Layout
front engine, all wheel drive
Rolling acceleration
| | |
| --- | --- |
| 60 - 100 kph (4) | 3.5 s |
| 60 - 100 kph (5) | 4.5 s |
| 80 - 120 kph (5) | 4.6 s |
| 80 - 120 kph (6) | 5.8 s |
| 80 - 120 kph (7) | 7.0 s |
| 80 - 120 kph (8) | 9.5 s |
| 80 - 120 kph | 4.8 s |
| Est. 100 - 200 kph | 15.2 s |
Bentayga Diesel competition
---
---
---
FastestLaps 6y ago
Only slight annoyance with Bentayga Diesel could be the fact that you get the same engine in same output trim in SQ7, which is considerably lighter and faster, apart form the topspeed limiter set to 250, instead of 270 :)
But that extra weight in Bentayga is definatley not "dead weight" - it's good kind of weight - better sound insulation, better interior trim etc.
---
---
---
FastestLaps 6y ago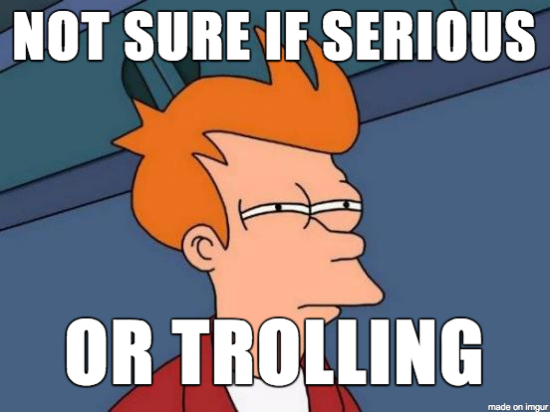 W12 twin turbo is great engine, but I think this diesel V8 is simply better. I know which one I would choose.
As far as pricing and paying "this much" for diesel - if you haven't noticed, all diesel cars are more expensive than similar gas cars. That's not an aberration. It simply proves that diesel cars are better and people are willing to pay more for diesel - it's how market works.
You need some diesel education - try driving a diesel for a week - any modern diesel car. You will love it.
---
FastestLaps 6y ago
Another VW Group car using the amazing V8 twin turbo diesel - word's most power passenger car diesel engine.