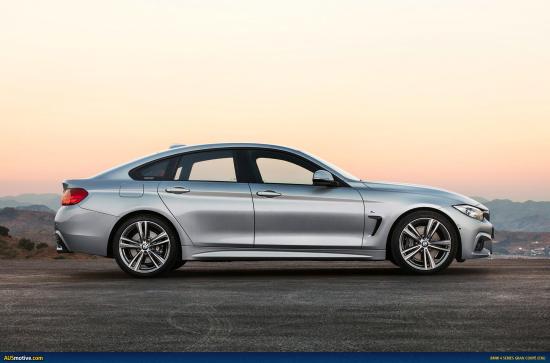 BMW 440i Gran Coupe xDrive (F36 360 PS) specs
| | |
| --- | --- |
| Price in Europe | €54,950 - €82,348 |
| Car type | 4-door saloon |
| Curb weight | 1790 kg (3946 lbs) |
| Introduced | 2015 |
| Origin country | Germany |
| Gas mileage | 10.1 l/100 km (23 mpg US / 28 mpg UK) |
| Views | 10.4k |
| Submitted by | FastestLaps |
Acceleration
| | |
| --- | --- |
| 0 - 80 kph | 3.4 s |
| 0 - 100 kph | 4.6 s |
| 0 - 130 kph | 7.5 s |
| 0 - 160 kph | 10.3 s |
| 0 - 180 kph | 14.4 s |
| 0 - 200 kph | 17.2 s |
| 1000 m | 23.5 s @ 223.0 kph |
| 80 - 120 kph | 3.1 s |
| Est. 100 - 200 kph | 13.1 s |
| Est. 0 - 60 mph | 4.4 s |
| Est. 1/8 mile | 9.1 s @ 93.8 mph |
| 1/4 mile | 12.8 s @ 110.0 mph |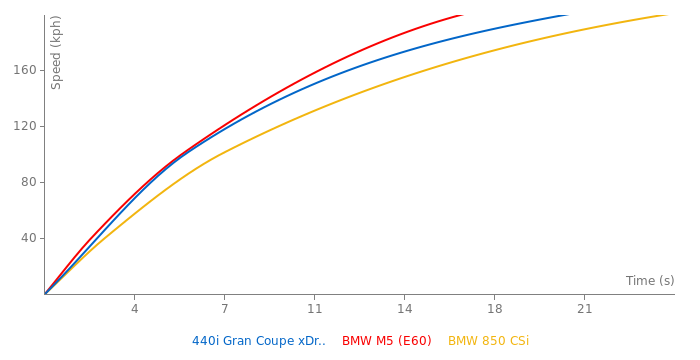 General performance
| | |
| --- | --- |
| Top speed | 250 kph (155 mph) |
| Est. max acceleration | 0.69 g (7 m/s²) |
| 18m slalom | 67.1 kph (41.7 mph) |
| Emissions | 235 g/km |
| 100 kph - 0 | 35 m (115 ft) |
| 130 kph - 0 | 59 m (193 ft) |
| 190 kph - 0 | 133 m (436 ft) |
| Noise @ 80 kph | 65 dB |
| Noise @ 100 kph | 66 dB |
| Noise @ 130 kph | 69 dB |
| Noise @ 160 kph | 72 dB |
Powertrain specs
Engine type
Inline 6 turbo
Displacement

3.0 l (183 ci / 2999 cc)

Power

360 ps (355 bhp / 265 kw)

@ 5500 rpm
Torque

500 Nm (369 lb-ft)

@ 1380 rpm
Power / liter

120 ps (118 hp)

Power / weight

201 ps (198 bhp) / t

Torque / weight

279 Nm (206 lb-ft) / t

Efficiency
36 PS per l/100 km
Power / €5000

28 ps

Transmission
7 speed dual-clutch automatic
Layout
front engine, all wheel drive
440i Gran Coupe xDrive competition
---
Magnus 2m ago
440i was available with 360 PS with the M Performance MPPSK kit. This was sold as an option. These date reflect this version
---
---
---
---

---

---

saxy 5y ago
"i" for petrol engines, "d" for diesel... it still has its place.
But gosh, how many different tunes of 3.0L engines are they selling now? Even the single turbo engines they have 3, 335, 355, 375hp. Then there's the twin turbo 420, 435? 500?
I hate it when they give you an identical engine and then give you a software tune of less hp because you didn't pay more money...
---
FastestLaps 5y ago
Pretty car, no doubt. Very elegant. But when will BMW finally drop the silly "i" in their model names? It's been redundant for at least 15 years.