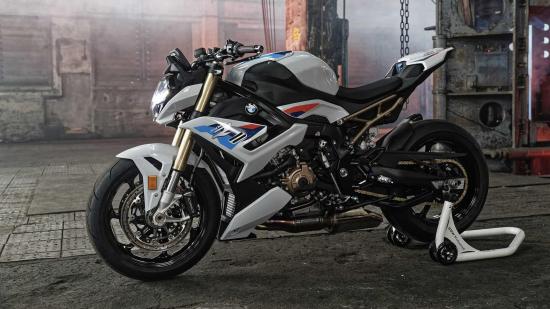 BMW S 1000 R specs
| | |
| --- | --- |
| Price in Europe | €13,842 - €21,250 |
| Motorcycle type | Classic |
| Curb weight | 200-210 kg (441-463 lbs) |
| Introduced | 2013 |
| Origin country | Germany |
| Gas mileage | 7.4-5.2 l/100 km (32-45 mpg US / 38-54 mpg UK) |
| CO2 emissions | 128 g/km |
| Views | 691 |
| Submitted by | Hoppelmoppel123 |
Performance
| | |
| --- | --- |
| 0 - 100 kph | 3.2 s |
| 0 - 140 kph | 4.7 s |
| 0 - 150 kph | 5.3 s |
| 0 - 200 kph | 8.0 s |
| 60 - 100 kph | 3.2 s |
| 100 - 140 kph | 3.0 s |
| Est. 100 - 200 kph | 4.9 s |
| Est. 0 - 60 mph | 3.1 s |
| Est. 1/8 mile | 7.2 s @ 116.8 mph |
| Top speed | 264 kph (164 mph) |
| Est. max acceleration | 0.92 g (9 m/s²) |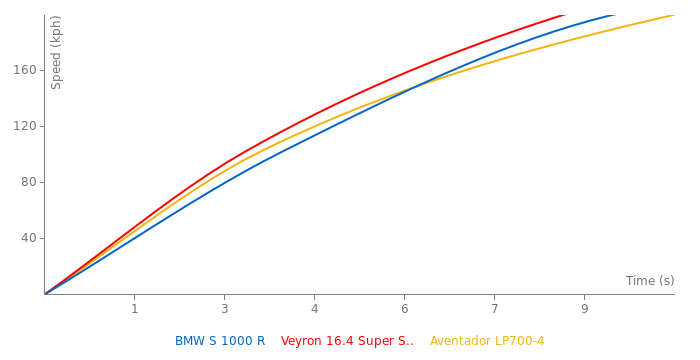 Powertrain specs
Engine type
Inline 4 water/oil cooled
Displacement

999 cc

Power

165 ps (163 bhp / 121 kw)

@ 11000 rpm
Torque

114 Nm (84 lb-ft)

@ 9250 rpm
Power / liter

165 ps (163 hp)

Power / weight

805 ps (794 bhp) / t

Torque / weight

556 Nm (410 lb-ft) / t

Efficiency
28 PS per l/100 km
Power / €5000

50 ps

Transmission
6 speed
S 1000 R competition
Punisher 2y ago
Is the performance real? This bike even fast as the ducati streetfighter v4s. Is this possible?
---
---
FastestLaps 2y ago
Tough case. I changed it to "classic", although it is very similar to RR.
Sport = with aggressive sitting position (more stretched out over the tank), typically with aero windscreen and engine under aero fairings.
Classic = just a street motorcycle. Not necessarily for track or ultimate performance. More upright and comfort oriented position. Often without much aero fairing.
Touring = long distance & comfort oriented, major wind protection, ability to add side cases, top case etc.
Dual sport = road legal bike with off-road capability - long travel suspension, often 21 inch front wheel, often with spoked wheels (for rock protection), sometimes with engine guards, hand guards etc etc, depending on how off-road oriented the particular model is.
Hard enduro - road legal bike built for extreme offroading/competition
Sport touring - just like this BMW, but with wind protection and some luggage capability
Cruiser - like touring but more style focused - Harleys etc.