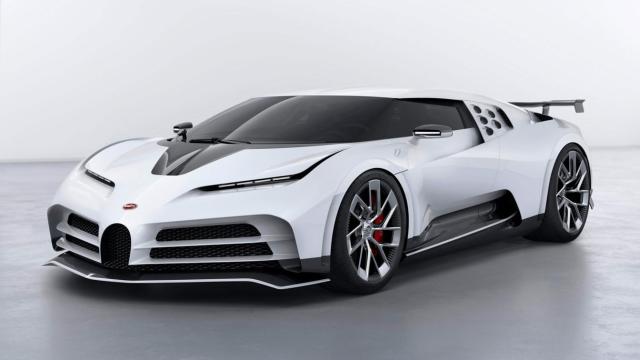 Bugatti Centodieci specs
| | |
| --- | --- |
| Car type | Coupe |
| Curb weight | 1975 kg (4354 lbs) |
| Introduced | 2019 |
| Origin country | France |
| Views | 4.2k |
| Submitted by | fakekillerfour |
Performance
| | |
| --- | --- |
| 0 - 100 kph | 2.4 s |
| 0 - 200 kph | 6.1 s |
| 0 - 300 kph | 13.1 s |
| Est. 1/8 mile | 6.3 s @ 126.8 mph |
| Est. 1/4 mile | 9.6 s @ 162.8 mph |
| Top speed | 380 kph (236 mph) |
| Est. 100 - 200 kph | 3.7 s |
| Est. 200 - 300 kph | 7.0 s |
| Est. max acceleration | 1.23 g (12 m/s²) |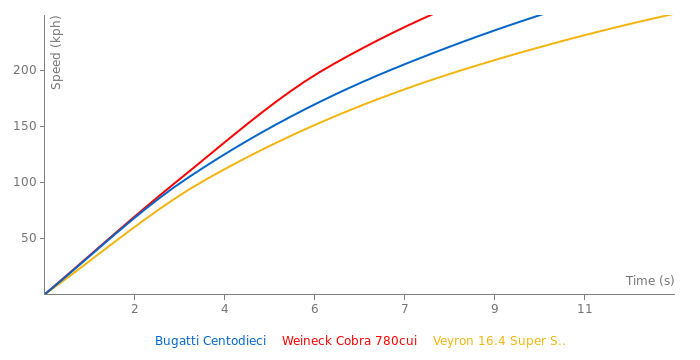 Powertrain
| | |
| --- | --- |
| Engine type | W16 quad turbocharged |
| Displacement | 8.0 l (488 ci) |
| Power | 1600 ps (1578 bhp / 1177 kw) |
| Torque | 1600 Nm (1180 lb-ft) |
| Power / liter | 200 ps (197 hp) |
| Power / weight | 810 ps (799 bhp) / t |
| Torque / weight | 810 Nm (598 lb-ft) / t |
| Transmission | 7 speed dual clutch automatic |
| Layout | middle engine, all wheel drive |
Centodieci rivals
M Power 2w ago
Centodieci = 110 in italian = design based on EB110 from 90´s
---
FastestLaps 7m ago
Another reskin of Chiron? Basically 1 - create new body for Chiron 2 - multiply price 10fold cuz "muh exclusivity" muh "only x made", muh collector car prices only go up forever, 3 - profit
---
aaayy 7m ago
From a designers standpoint, we like this idea. They get to keep the crazy-ass 4 turbo w16, but they design it a cooler body, or a better looking , or a more performance oriented body to put over the drivetrain. Just like the olden days.
---
FastestLaps 7m ago @aaayy
It's not like you can fit just any body on given chassis like the old days when chassis was literally that - a steel ladder with engine on top of it. For a modern thing like Bugatti Chiron (or anything really) the degree of design freedom is very limited and you can easily tell just from the proportions and layout, that it is a variation of Chiron.
---
SpeedKing 7m ago @FastestLaps
Exactly, look at the Aventador for example, a DCT would apparently require a major redesign to make it fit.
---
---