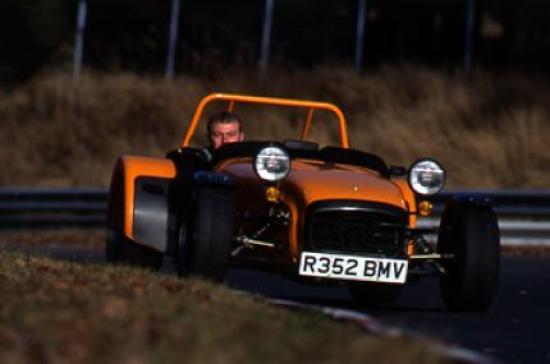 Caterham Superlight R specs
| | |
| --- | --- |
| Car type | Open-wheeler |
| Curb weight | 470 kg (1036 lbs) |
| Introduced | 1997 |
| Origin country | United Kingdom |
| Views | 21.6k |
| Submitted by | Wads |
Performance
| | |
| --- | --- |
| 0 - 100 kph | 4.7 s |
| Top speed | 215 kph (134 mph) |
Powertrain specs
| | |
| --- | --- |
| Engine type | Inline 4 |
| Displacement | 1.8 l (110 ci) |
| Power | 193 ps (190 bhp / 142 kw) |
| Power / liter | 107 ps (106 hp) |
| Power / weight | 410 ps (404 bhp) / t |
| Transmission | 6 speed manual |
| Layout | front engine, rear wheel drive |
Superlight R competition
FastestLaps 9y ago
Doesn't look bad that Caterham 21, what was wrong with it, why so little interest?
---
Deev 9y ago
Done. Called the Caterham 21. Apart from 27 people, nobody bought it.
---
Anonymous 15y ago
one day i would love to see Caterham build a REAL bodyied car. not that im complaining, but a car with like an actual body, not this go-kart like body.