Chevrolet Caprice SS (LT) specs
| | |
| --- | --- |
| Car type | 4-door saloon |
| Curb weight | 1805 kg (3979 lbs) |
| Introduced | 2008 |
| Origin country | United States |
| Views | 26.6k |
| Submitted by | audi r8 |
Performance
| | |
| --- | --- |
| 0 - 100 kph | 5.8 s |
| 0 - 200 kph | 21.0 s |
| Est. 100 - 200 kph | 15.2 s |
| Est. 0 - 60 mph | 5.5 s |
| Est. 1/8 mile | 9.8 s @ 87.6 mph |
| 1/4 mile | 14.1 s |
| Top speed | 260 kph (162 mph) |
| Est. max acceleration | 0.54 g (5 m/s²) |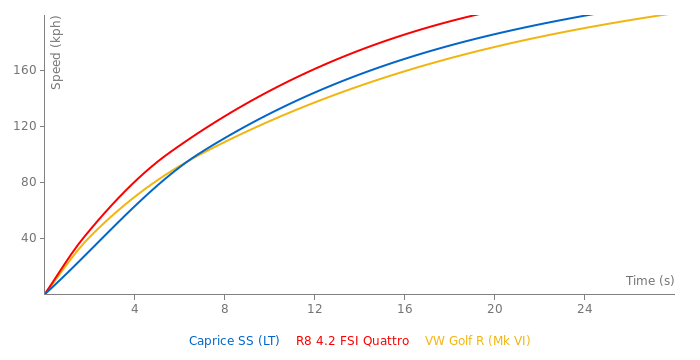 Powertrain specs
| | |
| --- | --- |
| Engine type | V8 |
| Displacement | 6.0 l (366 ci) |
| Power | 365 ps (360 bhp / 268 kw) |
| Torque | 530 Nm (391 lb-ft) |
| Power / liter | 61 ps (60 hp) |
| Power / weight | 202 ps (199 bhp) / t |
| Torque / weight | 294 Nm (217 lb-ft) / t |
| Transmission | 6 speeds |
| Layout | front engine, rear wheel drive |
Caprice SS competition
---
shatti 12y ago
it's an Australian car. I have it.
great peformance. American style cuase it chevrolet ofcourse. I tried it vs charger r/t. drag race & i betead him.
Only available in middle east & USA cop cars & in australia ( original home country ) it's not a chevrolet, it't holden caprice comes with lion signal in the rear of the car.
In middle east, ther's a defferent types.
caprice Ls v6 & v8
caprice Ltz v8 >>> ( my car )
caprice SS v8
caprice Royal v8
Hope I was useful explainig the great Aus car with Ame style car.