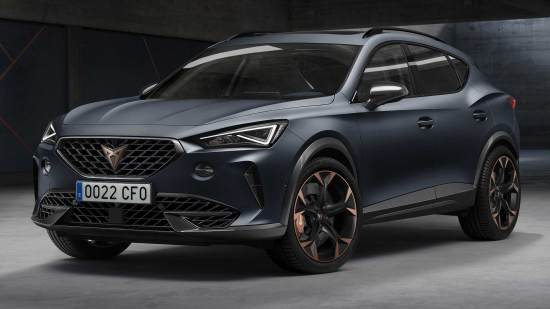 Cupra Formentor VZ 2.0 TSI specs
| | |
| --- | --- |
| Price in Europe | €43,953 - €53,965 |
| Car type | SUV/truck |
| Curb weight | 1437-1715 kg (3168-3781 lbs) |
| Introduced | 2020 |
| Origin country | Spain |
| Gas mileage | 26.2-6.1 l/100 km (9-39 mpg US / 11-47 mpg UK) |
| CO2 emissions | 169 - 233 g/km |
| Views | 5.3k |
| Submitted by | Hoppelmoppel123 |
Performance
| | |
| --- | --- |
| 0 - 40 kph | 1.3 s |
| 0 - 50 kph | 1.8 s |
| 0 - 60 kph | 2.0 s |
| 0 - 80 kph | 3.3 s |
| 0 - 100 kph | 4.5 s |
| 0 - 120 kph | 6.2 s |
| 0 - 130 kph | 7.1 s |
| 0 - 140 kph | 8.4 s |
| 0 - 150 kph | 9.6 s |
| 0 - 160 kph | 11.1 s |
| 0 - 180 kph | 14.1 s |
| 0 - 200 kph | 17.7 s |
| 100 m | 5.5 s @ 110.9 kph |
| 1000 m | 23.7 s @ 216.3 kph |
| 0 - 30 mph | 2.1 s |
| 0 - 40 mph | 2.9 s |
| 0 - 50 mph | 3.9 s |
| 0 - 60 mph | 5.1 s |
| 0 - 70 mph | 6.4 s |
| 0 - 80 mph | 8.0 s |
| 0 - 90 mph | 10.1 s |
| 0 - 100 mph | 12.4 s |
| 0 - 110 mph | 15.1 s |
| 0 - 120 mph | 18.6 s |
| 0 - 130 mph | 23.4 s |
| Est. 1/8 mile | 9.2 s @ 92.6 mph |
| 1/4 mile | 12.7 s |
| 1/2 mile | 20.1 s |
| Top speed | 251 kph (156 mph) |
| Est. 0 - 100 mph - 0 | 19.1 s @ 1660 ft |
| Est. max acceleration | 0.65 g (6 m/s²) |
| 18m slalom | 67.9 kph (42.2 mph) |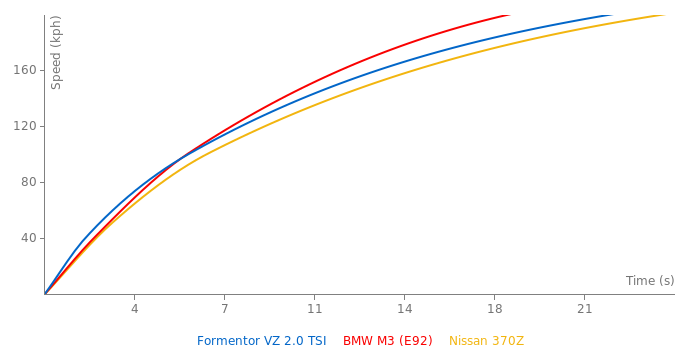 Powertrain specs
Engine type
Inline 4 turbo
Displacement

2.0 l (121 ci / 1984 cc)

Power

310 ps (306 bhp / 228 kw)

@ 5450 rpm
Torque

400 Nm (295 lb-ft)

@ 2000 rpm
Power / liter

156 ps (154 hp)

Power / weight

194 ps (192 bhp) / t

Torque / weight

251 Nm (185 lb-ft) / t

Efficiency
28 PS per l/100 km
Power / €5000

33 ps

Transmission
7 speed Dual clutch
Layout
front engine, all wheel drive
Braking distance
| | |
| --- | --- |
| 50 kph - 0 | 9 m (28 ft) |
| 60 kph - 0 | 12 m (40 ft) |
| 100 kph - 0 | 33 m (108 ft) |
| 130 kph - 0 | 57 m (187 ft) |
| 140 kph - 0 | 66 m (217 ft) |
| 150 kph - 0 | 76 m (249 ft) |
| 160 kph - 0 | 86 m (282 ft) |
| 180 kph - 0 | 117 m (384 ft) |
| 190 kph - 0 | 129 m (423 ft) |
| 200 kph - 0 | 136 m (445 ft) |
| 30 mph - 0 | 9 m (31 ft) |
| 50 mph - 0 | 26 m (84 ft) |
| 70 mph - 0 | 51 m (167 ft) |
Rolling acceleration
| | |
| --- | --- |
| 60 - 100 kph (4) | 4.5 s |
| 60 - 100 kph (5) | 6.5 s |
| 80 - 120 kph (4) | 5.0 s |
| 80 - 120 kph (5) | 6.6 s |
| 80 - 120 kph (6) | 8.5 s |
| 80 - 120 kph (7) | 11.8 s |
| 80 - 160 kph (4) | 10.4 s |
| 80 - 160 kph (5) | 14.8 s |
| 80 - 160 kph (6) | 19.7 s |
| 80 - 160 kph (7) | 28.6 s |
| 70 - 90 kph | 2.9 s |
| 70 - 100 kph | 3.7 s |
| 70 - 120 kph | 5.4 s |
| 70 - 130 kph | 6.5 s |
| 70 - 140 kph | 7.7 s |
| 80 - 120 kph | 3.0 s |
| Est. 100 - 140 kph | 4.0 s |
| 100 - 200 kph | 13.2 s |
Interior noise
| | |
| --- | --- |
| Noise @ idle | 44 dB |
| Noise @ 50 kph | 58 dB |
| Noise @ 80 kph | 65 dB |
| Noise @ 100 kph | 66 dB |
| Noise @ 130 kph | 67 dB |
| Noise @ 160 kph | 72 dB |
| Noise @ 180 kph | 76 dB |
| Noise @ 30 mph | 61 dB |
| Noise @ 50 mph | 66 dB |
| Noise @ 70 mph | 69 dB |
Formentor VZ 2.0 TSI competition
AdamT 2w ago
How is the 0-60 mph slower than the 0-100kph?😂
---
FastestLaps 2w ago
Different test results from different sources, measured at different times, with different testing equipment, in different weather conditions, and with different cars with different mileage.
That's why.
---
---
FastestLaps 5m ago
Shows how wonderful modern engine tech is. Soon to be lost art almost seems...
---
FastestLaps 2y ago
Now we got 300+ PS from 2 liter inline 4 turbos like its not even a big deal...