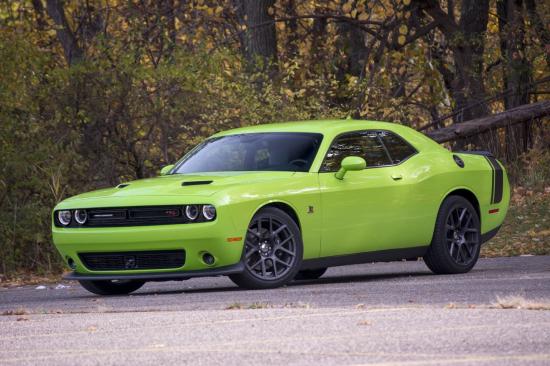 Dodge Challenger SRT-8 392 (facelift) specs
| | |
| --- | --- |
| Price in Europe | €56,900 - €61,799 |
| Car type | Coupe |
| Curb weight | 1937-1964 kg (4270-4330 lbs) |
| Dimensions | 5.02 m (198 in) long, 1.92 m (76 in) wide, 1.45 m (57 in) high |
| Wheelbase | 2.95 m (116 in) |
| Introduced | 2015 |
| Origin country | United States |
| Gas mileage | 16.4-11.6 l/100 km (14-20 mpg US / 17-24 mpg UK) |
| Views | 13.2k |
| Submitted by | BR2+ |
Acceleration
| | |
| --- | --- |
| 0 - 40 kph | 1.7 s |
| 0 - 50 kph | 2.1 s |
| 0 - 80 kph | 3.5 s |
| 0 - 100 kph | 4.2 s |
| 0 - 130 kph | 7.1 s |
| 0 - 160 kph | 10.3 s |
| 0 - 180 kph | 13.6 s |
| 0 - 200 kph | 16.0 s |
| 0 - 60 mph | 4.0 s |
| Est. 1/8 mile | 9.0 s @ 94.4 mph |
| 1/4 mile | 12.1 s @ 115.0 mph |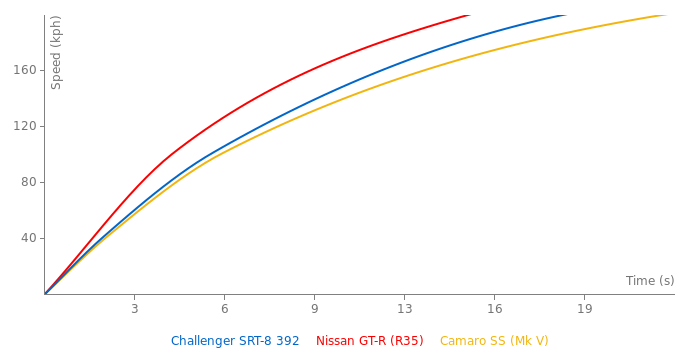 General performance
| | |
| --- | --- |
| Top speed | 300 kph (186 mph) |
| Est. 0 - 100 mph - 0 | 17.5 s @ 1483 ft |
| Est. max acceleration | 0.66 g (6 m/s²) |
| 18m slalom | 65.1 kph (40.5 mph) |
| Est. emissions | 288 g/km |
| 100 kph - 0 | 33 m (107 ft) |
| 200 kph - 0 | 146 m (479 ft) |
Powertrain specs
Engine type
V8, 16 valve HEMI
Displacement

6.4 l (392 ci / 6417 cc)

Power

492 ps (485 bhp / 362 kw)

@ 6000 rpm
Torque

644 Nm (475 lb-ft)

@ 4200 rpm
Power / liter

77 ps (76 hp)

Power / weight

252 ps (249 bhp) / t

Torque / weight

330 Nm (243 lb-ft) / t

Efficiency
35 PS per l/100 km
Power / €5000

41 ps

Transmission
8 speed automatic or 6-speed manual
Layout
front engine, rear wheel drive
Rolling acceleration
| | |
| --- | --- |
| 60 - 100 kph (4) | 3.2 s |
| 60 - 100 kph (5) | 4.0 s |
| 80 - 120 kph (4) | 3.4 s |
| 80 - 120 kph (5) | 4.8 s |
| 80 - 120 kph (6) | 6.9 s |
| 80 - 120 kph (7) | 8.8 s |
| 80 - 120 kph (8) | 13.0 s |
| 80 - 160 kph (4) | 7.2 s |
| 80 - 160 kph (5) | 9.5 s |
| 80 - 160 kph (6) | 13.5 s |
| 80 - 160 kph (7) | 18.3 s |
| 80 - 160 kph (8) | 27.7 s |
| Est. 100 - 200 kph | 11.8 s |
Challenger SRT-8 392 competition
TheStingrayVette 1w ago
Top speed is more like 182 mph, not 186 mph. Still a badass looking car since 1970.
---
Lambolover 5m ago
Why isn't the trending list updating?
It's been the same for the last 8 hours or so
---
Hoppelmoppel123 5m ago
Those manufacturer times 0-60 mph and 0-100 kph arent really posible.
---