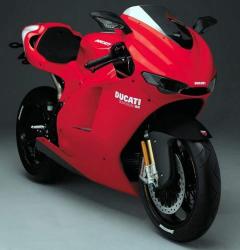 Ducati Desmosedici RR specs
| | |
| --- | --- |
| Motorcycle type | Sport |
| Curb weight | 182 kg (401 lbs) |
| Wheelbase | 1.43 m (56 in) |
| Years built | 2006 - 2007 |
| Origin country | Italy |
| Views | 543 |
| Submitted by | 196ss |
Powertrain specs
Engine type
4-Cylinder DOHC Desmodromic
Displacement

989 cc

Power

200 ps (197 bhp / 147 kw)

@ 13800 rpm
Torque

116 Nm (86 lb-ft)

@ 10500 rpm
Power / liter

202 ps (199 hp)

Power / weight

1099 ps (1084 bhp) / t

Torque / weight

637 Nm (470 lb-ft) / t

Transmission
6 speed cassette type
Desmosedici RR competition
More Ducati motorcycles
33
---
---
196ss 5m ago
This beast is the F40 of bikes.
Judge for yourself: it's fast, it's light, it's Italian, it's red, it's very close to the racing version, and it absolutely mindblowing.
Moreover, the production history is also similar. It was planned to release a limited edition of 300 units, but it quickly turned out that customers were ready to buy much more (despite very high price). At the end they sold 1,500 units.
---
FastestLaps 5m ago
I suspect it has too much electronics (wheelie control, engine modes, suspension modes etc.) to be truly like F40 which hade absolutely none (not sure if F40 even had ABS).
But overall Ducatis are Ferraris of motorcycle world for sure. Maybe not the most consequential brand, but the most desirable.
---
FastestLaps 5m ago
It is, of course, easy to act like a purist and say that electronics are bad, but for a 200 horsepower bike, they probably are necessary, at least for 99% of riders. Otherwise you won't have the confidence to even use 50% of the performance potential.
---
196ss 5m ago @FastestLaps
That bike was very close to MotoGP, so definitely not for an average driver.
And the performance for 2007 was just amazing!
0-200 in 7,3 seconds...
While fastest cars at that time were only starting to get below 10 seconds. Only Veyron could compete at the straight.
And at the road course it was most likely demolishing everything stock road legal.
---
196ss 5m ago
"Moto" magazine, October 2012:
0-100 kph - 3,1 sec
0-140 kph - 4,5 sec
0-200 kph - 7,3 sec
1/4 mile - 9,6 sec 243,5 kph
100-0 kph - 39,2 m

https://moto-magazine.ru/tests/mototsikly-i-skutery/shestero-na-odnogo-sravnitelnyy-test-sportlitrov/