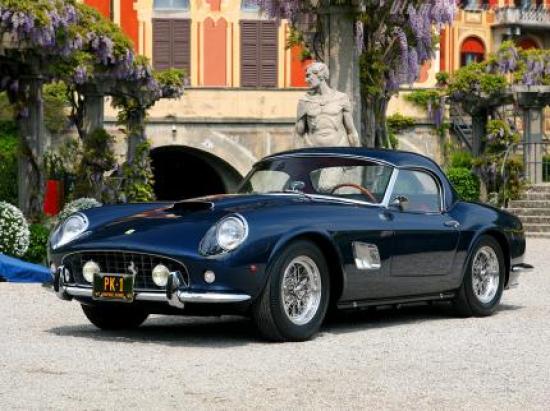 Ferrari 250 GT Short Wheelbase specs
| | |
| --- | --- |
| Car type | Coupe |
| Curb weight | 1200 kg (2646 lbs) |
| Introduced | 1960 |
| Origin country | Italy |
| Views | 7.3k |
Performance
| | |
| --- | --- |
| 0 - 100 kph | 8.0 s |
| Top speed | 240 kph (149 mph) |
Powertrain specs
| | |
| --- | --- |
| Engine type | 24 valve, V12 |
| Displacement | 3.0 l (180 ci / 2953 cc) |
| Power | 281 ps (277 bhp / 207 kw) |
| Torque | 275 Nm (203 lb-ft) |
| Power / liter | 95 ps (94 hp) |
| Power / weight | 234 ps (231 bhp) / t |
| Torque / weight | 229 Nm (169 lb-ft) / t |
| Transmission | 4 speed manual |
| Layout | front engine, rear wheel drive |
250 GT Short Wheelbase competition
---
196ss 7y ago
There was 2 versions of this car:
"Lusso" - steel body, 240PS engine (shown on the picture, performance figures listed for this version).
"Competizione" was road legal race car - aluminium body, stripped interior, 270 PS engine (few of them had 293 PS engine from Testa Rossa).
One competizione version was tested in 1962 by german magazine Motor Revue. 0-100-0mph was 22,0 sec, so I think 0-100kph was about 6.0-6.5.