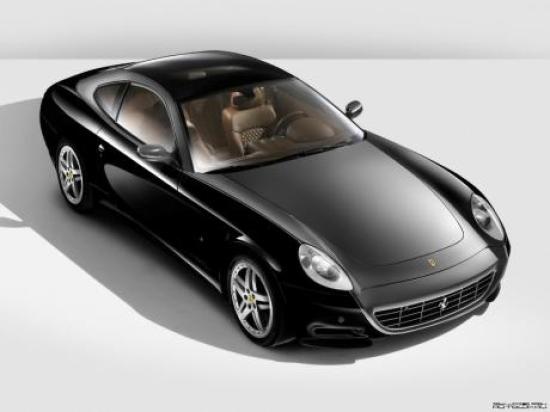 Ferrari 612 Scaglietti specs
| | |
| --- | --- |
| Price in US | $266,155 - $280,751 |
| Car type | Coupe |
| Curb weight | 1859-1926 kg (4098-4246 lbs) |
| Introduced | 2004 |
| Origin country | Italy |
| Views | 42.1k |
Performance
| | |
| --- | --- |
| 0 - 100 kph | 4.2 s |
| 0 - 200 kph | 14.0 s |
| Est. 1000 m | 23.3 s @ 246.0 kph |
| Est. 100 - 200 kph | 9.8 s |
| 0 - 30 mph | 1.8 s |
| 0 - 40 mph | 2.5 s |
| 0 - 50 mph | 3.7 s |
| 0 - 60 mph | 4.1 s |
| 0 - 70 mph | 6.0 s |
| 0 - 80 mph | 7.2 s |
| 0 - 90 mph | 8.5 s |
| 0 - 100 mph | 9.2 s |
| Est. 1/8 mile | 8.6 s @ 98.2 mph |
| 1/4 mile | 12.6 s @ 116.0 mph |
| Est. 1/2 mile | 20.0 s @ 144.2 mph |
| Est. 1 mile | 32.9 s @ 169.6 mph |
| Top speed | 320 kph (199 mph) |
| Est. max acceleration | 0.73 g (7 m/s²) |
| Lateral acceleration | 0.88 g (9 m/s²) |
| 60 mph - 0 | 33 m (108 ft) |
| 100 mph - 0 | 98 m (321 ft) |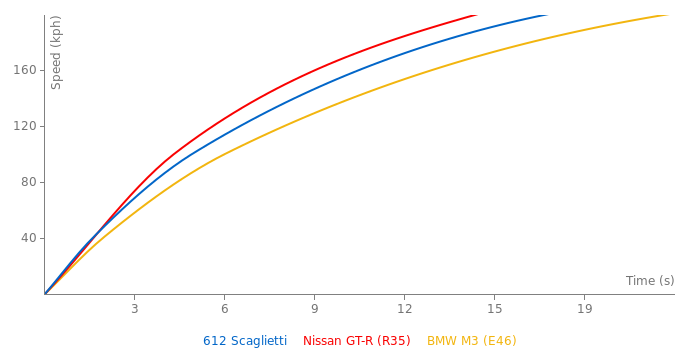 Powertrain specs
| | |
| --- | --- |
| Engine type | V12, 48v |
| Displacement | 5.7 l (348 ci) |
| Power | 540 ps (533 bhp / 397 kw) |
| Torque | 588 Nm (434 lb-ft) |
| Power / liter | 95 ps (93 hp) |
| Power / weight | 284 ps (280 bhp) / t |
| Torque / weight | 309 Nm (228 lb-ft) / t |
| Transmission | 6 |
| Layout | front engine, rear wheel drive |
612 Scaglietti competition

IncomingASD 8m ago
I got a question. When did production of the 612 Scaglietti end?
---
Guest 10y ago
In my opinion the 612 Scaglietti has a platform of a Kia Spectra/Sephia, but making it sexier. Even the subcompact Kia Rio is cute.
---
---
FadeToBlack 14y ago
Somebody should change the 0-200 numbers and the interior images, as these ones are from the (probably) first model year, where they haven't introduced the manettino in the 612.
---
---
Anonymous 15y ago
is this the first lbs4000+ ferrari??
---