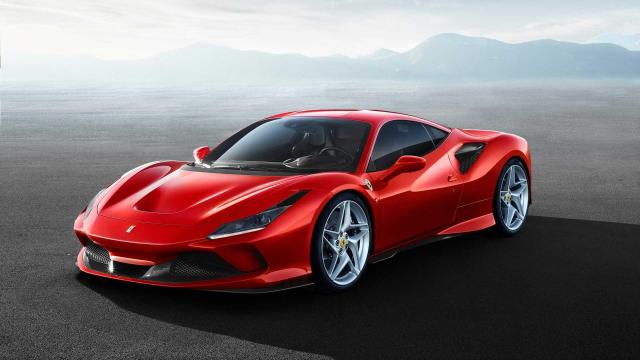 Ferrari F8 Tributo specs
| | |
| --- | --- |
| Car type | Coupe |
| Curb weight | 1435 kg (3164 lbs) |
| Power / weight | 502 ps (495 bhp) / t |
| Torque / weight | 537 Nm (396 lb-ft) / t |
| Introduced | 2019 |
| Origin country | Italy |
| Views | 3.4k |
| Submitted by | fakekillerfour |
Powertrain
| | |
| --- | --- |
| Engine type | twin turbo V8 |
| Displacement | 3.9 l (238 ci) |
| Power | 720 ps (710 bhp / 530 kw) |
| Torque | 770 Nm (568 lb-ft) |
| Power / liter | 185 ps (182 hp) |
| Transmission | 7 speed dual clutch automatic |
| Layout | middle engine, rear wheel drive |
F8 Tributo rivals
oliver 06 2w ago
812 is an elephant and can't be faster than 488 pista !
---
oliver 06 2w ago
i think lap time of fiorano ,are not logical and probably fact . its commercial from ferrari
---
FastestLaps 2w ago
They are probably made up (within the realm of possibility). But, just like with factory acceleration data, we have to assume them as true. The straight line data published by manufacturers tends to be on conservative side and independent tests almost always yield better results. If there was a magazine doing independent testing in Fiorano, we would know what's what for sure. In mean time, perhaps I should try to run my laptime estimator for Fiorano and see what results that gets, just for giggles :D
---
---
Freakz 3m ago
Fiorano Lap time: 1:22.50
---
Tupadre 3m ago
Beatifull and powerfull. I dont care the 720s
---
John Doe 3m ago
Yeah I agree!
Ferrari always had a soul!
And those rims look like reference to 288 GTO and Testarossa!
Pure Delight.
---
---
dr. cosimo 3m ago
can't wait for the haters to chime and pull out all sorts abracadabras out of their rear end :)
---
!!! 2m ago
Just one question-
Now don't you find it necessary to mention it as just a pista with body kit with the same 458 chassis?
---