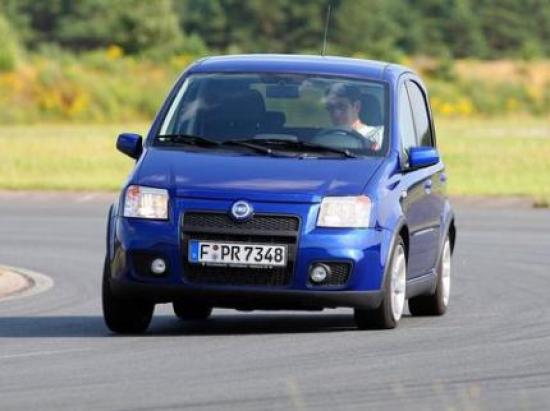 Fiat Panda 1.4 (Mk II) specs
| | |
| --- | --- |
| Car type | Compact |
| Curb weight | 950 kg (2094 lbs) |
| Introduced | 2006 |
| Origin country | Italy |
| Views | 22.5k |
| Submitted by | Heyhuub |
Performance
| | |
| --- | --- |
| 0 - 100 kph | 9.5 s |
| Top speed | 185 kph (115 mph) |
Powertrain specs
| | |
| --- | --- |
| Engine type | Inline 4, 16v |
| Displacement | 1.4 l (85 ci) |
| Power | 101 ps (99 bhp / 74 kw) |
| Torque | 131 Nm (97 lb-ft) |
| Power / liter | 72 ps (71 hp) |
| Power / weight | 106 ps (104 bhp) / t |
| Torque / weight | 138 Nm (102 lb-ft) / t |
| Transmission | 6 |
| Layout | front engine, front wheel drive |
Panda 1.4 competition
greg 2y ago
OMG
NOT better then a Porsche or Ferrari unless you never drove one!!!
---
Cosimo 11y ago
I drive one, black and white, which give it a sporty look, especially the audi style front grille. Bumpy riding, but great cornering, road biting tyres and revy engine. Entertaining and fun to drive.
---
thestig 11y ago
I love this car too! Its just soo fast. What a feeling it is when you can just power past Porsches, Ferraris and Beemers! It\'s super expensive, though :(
---
Tony 2y ago
Wtf are you talking about it does 0 to 60 in 9.5 seconds it's 100hp what Ferrari and Porsche can it power past?
---
benedekpuskas 2y ago @Tony
It's better than a Ferrari or a Porsche :-)
---
Kashan 11y ago
Love this car I have the 4x4 version but drove my brothers 100hp and I am now green with envy. The little car that could I tell ya! Its nippy, great safety specs, great visibility and cute what more do you want? Plus 4 doors makes it way more practical then many of its rivals.
---
Anonymous 14y ago
Could someone delete Anglesey lap time, it was Anglesey Coastal actually.