Ford Sierra RS500 Cosworth specs
| | |
| --- | --- |
| Car type | Coupe |
| Curb weight | 1210 kg (2668 lbs) |
| Introduced | 1987 |
| Origin country | United Kingdom |
| Views | 20.6k |
Performance
| | |
| --- | --- |
| 0 - 100 kph | 6.0 s |
| Est. 0 - 60 mph | 5.6 s |
| 0 - 100 mph | 15.8 s |
| Est. 1/8 mile | 9.9 s @ 83.3 mph |
| Est. 1/4 mile | 15.0 s @ 97.6 mph |
| Top speed | 242 kph (150 mph) |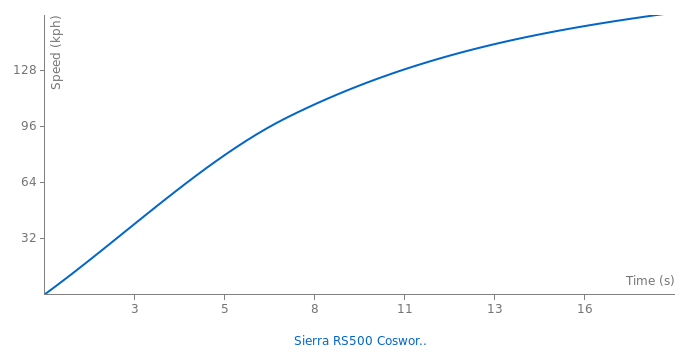 Powertrain specs
| | |
| --- | --- |
| Engine type | S4, 16v, Turbo |
| Displacement | 2.0 l (122 ci / 1993 cc) |
| Power | 224 ps (221 bhp / 165 kw) |
| Torque | 276 Nm (204 lb-ft) |
| Power / liter | 113 ps (111 hp) |
| Power / weight | 185 ps (183 bhp) / t |
| Torque / weight | 228 Nm (168 lb-ft) / t |
| Transmission | 5 |
| Layout | front engine, rear wheel drive |
Sierra RS500 Cosworth competition
---
Brucezilla 1y ago
Most , especially in the UK , were tuned to stage 3 packages . 440hp (330kw). They weren't slow.
---
CarElitist (guest) 12y ago
Why is this thing so slow by today's standards when other special high-performance trim cars back then can still give cars today a run for their money?
---
Sierranuhvadha 4y ago
yeah two seconds slower than a 420 ps Mustang mark v and at least as fast as Testarossa in dry. So slow! lmao
---
CarCritic 2y ago
On the contrary. This was the most successful racing car of its day, and beat the countach around the eboladrome.
---
Anwar 4m ago @Sierranuhvadha
S4, 16v, Turbo To a 5.0 v8 you muppet
---