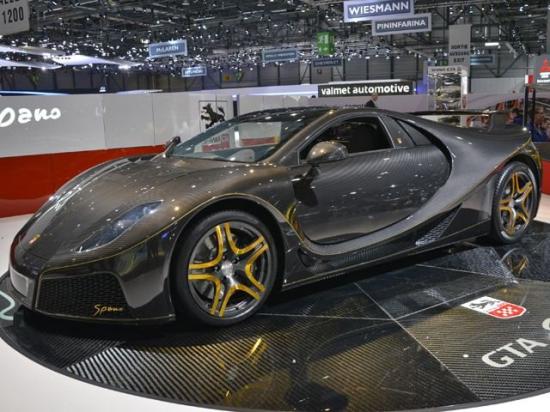 GTA Motors Spano (facelift) specs
| | |
| --- | --- |
| Car type | Coupe |
| Curb weight | 1350 kg (2976 lbs) |
| Dimensions | 4.60 m (181 in) long, 1.98 m (78 in) wide, 1.18 m (46 in) high |
| Wheelbase | 2.80 m (110 in) |
| Introduced | 2013 |
| Origin country | Spain |
| Views | 7.1k |
| Submitted by | Mental |
Performance
| | |
| --- | --- |
| 0 - 100 kph | 2.9 s |
| Top speed | 350 kph (217 mph) |
Powertrain specs
Engine type
V10 Twin Turbo
Displacement

8.4 l (513 ci)

Power

900 ps (888 bhp / 662 kw)

@ 6300 rpm
Torque

1000 Nm (738 lb-ft)

Power / liter

107 ps (106 hp)

Power / weight

667 ps (658 bhp) / t

Torque / weight

741 Nm (546 lb-ft) / t

Transmission
7-speed sequential
Layout
middle engine, rear wheel drive
Spano competition

Fangio Man 9y ago
The even more agressive version of the Spano!
But the interior is a matter of taste...
---

Mental 9y ago
Facelifted, improved GTA Spano, production-ready. You might think there is no difference at all, but, as you can see, the engine of the MY2013 is boosted up to 900 horses and 1000 Nm. Performance is claimed to be: top speed - 350+ kph; 0-100 in 2.9 seconds. I can't wait till the car get tested seriously. I suppose the car can be one of favorites in terms of acceleration and lap times.
And not just the engine was improved, but the exterior and interior too. I didn't really care for previous model years GTA, but this 2013 is impressive.
The production is limited to 99 units. Price list - £650,000... and that's one of few minuses about this car. That's just overpriced!