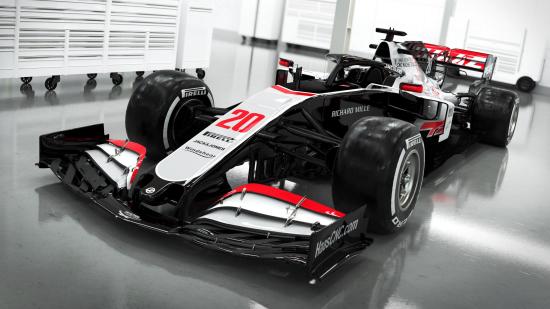 Haas VF-20 specs
| | |
| --- | --- |
| Car type | Open-wheeler |
| Years built | 2020 - 2020 |
| Origin country | United States |
| Views | 561 |
| Submitted by | FastestLaps |
Powertrain specs
| | |
| --- | --- |
| Engine type | Ferrari V6 turbocharged hybrid |
| Displacement | 1.6 l (98 ci) |
| Transmission | 8 speed semi-automatic |
| Layout | middle engine, rear wheel drive |
VF-20 competition
Qualifying results
| Race | # | Driver | Time | Gap |
| --- | --- | --- | --- | --- |
| Italian GP | 14th | Kevin Magnussen | 1:20.87 | +2.0 |
| 70th Anniversary GP | 14th | Romain Grosjean | 1:27.25 | +2.1 |
| Austrian GP | 15th | Romain Grosjean | 1:04.69 | +1.8 |
| Eifel GP | 15th | Kevin Magnussen | 1:27.12 | +1.9 |
| Styrian GP | 15th | Kevin Magnussen | 1:20.21 w | +2.4 |
| Tuscan GP | 15th | Romain Grosjean | 1:17.07 | +1.9 |
| Austrian GP | 16th | Kevin Magnussen | 1:05.16 | +2.2 |
| Eifel GP | 16th | Romain Grosjean | 1:27.55 | +2.3 |
| Hungarian GP | 16th | Kevin Magnussen | 1:16.15 | +2.7 |
| Italian GP | 16th | Romain Grosjean | 1:21.14 | +2.3 |
| Turkish GP | 16th | Kevin Magnussen | 2:08.01 w | +20.2 |
| Emilia Romagna GP | 16th | Romain Grosjean | 1:15.92 | +2.3 |
| British GP | 16th | Kevin Magnussen | 1:27.16 | +2.9 |
| Sakhir GP | 16th | Kevin Magnussen | 0:54.70 | +1.3 |
| Spanish GP | 16th | Kevin Magnussen | 1:17.91 | +2.3 |
| Russian GP | 17th | Romain Grosjean | 1:34.59 | +3.3 |
| Abu Dhabi GP | 17th | Kevin Magnussen | 1:37.86 | +2.6 |
| Emilia Romagna GP | 17th | Kevin Magnussen | 1:15.94 | +2.3 |
| 70th Anniversary GP | 17th | Kevin Magnussen | 1:28.24 | +3.1 |
| Spanish GP | 17th | Romain Grosjean | 1:18.09 | +2.5 |

benedekpuskas 3y ago
I can imagine how boring it is to add all the F1 cars...
---
FastestLaps 3y ago
Tell me about it.. The cars themselves are actually easy because they have hardly any data.
Believe it or not, the hard part is finding a semi-decent image that 1) Is not cropped weirdly 2) not watermarked 3) not have drivers sitting on front tyre 4) not have a wall of sponsor logos 5) not too small 6) not in some dumb new file format 7) not taken by some sassy photographer who will later e-mail me asking for money if I want to use his image etc.
The good part is that I won't have to do this again in 2021.
---