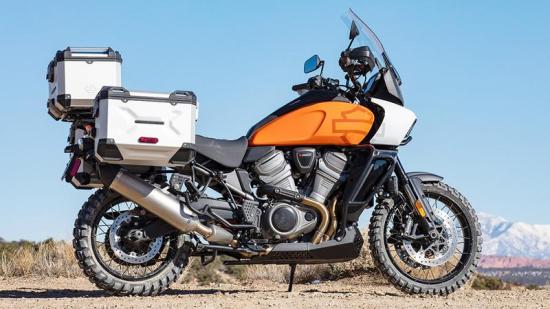 Harley-Davidson Pan America 1250 Special specs
| | |
| --- | --- |
| Price in Europe | €17,995 - €19,155 |
| Motorcycle type | Cruiser |
| Curb weight | 265 kg (584 lbs) |
| Introduced | 2021 |
| Origin country | United States |
| Gas mileage | 5.5-5.1 l/100 km (43-46 mpg US / 51-55 mpg UK) |
| CO2 emissions | 123 g/km |
| Views | 1k |
| Submitted by | Hoppelmoppel123 |
Performance
| | |
| --- | --- |
| 0 - 100 kph | 3.6 s |
| 0 - 140 kph | 5.7 s |
| 0 - 200 kph | 12.2 s |
| 100 - 140 kph | 3.7 s |
| Est. 100 - 200 kph | 8.6 s |
| Est. 0 - 60 mph | 3.4 s |
| Est. 1/8 mile | 8.0 s @ 103.8 mph |
| Est. 1/4 mile | 12.0 s @ 123.7 mph |
| Top speed | 220 kph (137 mph) |
| Est. max acceleration | 0.86 g (8 m/s²) |
| 100 kph - 0 | 42 m (138 ft) |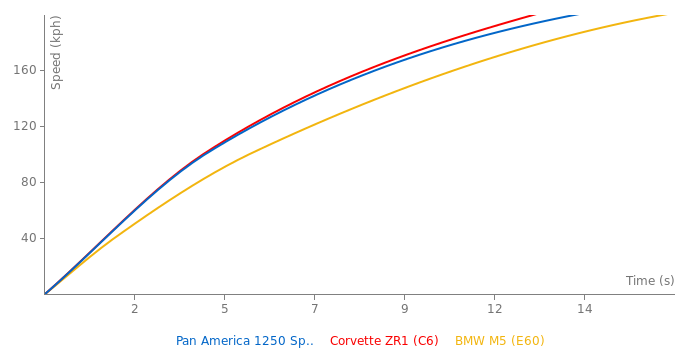 Powertrain specs
| | |
| --- | --- |
| Engine type | 60°V2 |
| Displacement | 1252 cc |
| Power | 152 ps (150 bhp / 112 kw) |
| Torque | 128 Nm (94 lb-ft) |
| Power / liter | 121 ps (120 hp) |
| Power / weight | 574 ps (566 bhp) / t |
| Torque / weight | 483 Nm (356 lb-ft) / t |
| Efficiency | 29 PS per l/100 km |
| Power / €5000 | 41 ps |
| Transmission | 6 speed |
Pan America 1250 Special competition
More Harley-Davidson motorcycles
4
---
FastestLaps 2y ago
Beautiful, powerful bike. Really impressive. The real unknown versus BMW GS is the reliability and longevity (KTM hasn't exactly been great with this either).
Also I am not sure if the trim items like switchgear, dash etc. are as well made or "premium feel" as the BMW.
Can't wait to see what the next iteration of big GS will look like. They already did a big step up with 1250 "shift-cam". But with this bike in the market, BMW will need to deliver even more.
---

benedekpuskas 2y ago
The BMW has more torque (I think), and it looks good too, but this looks even better.