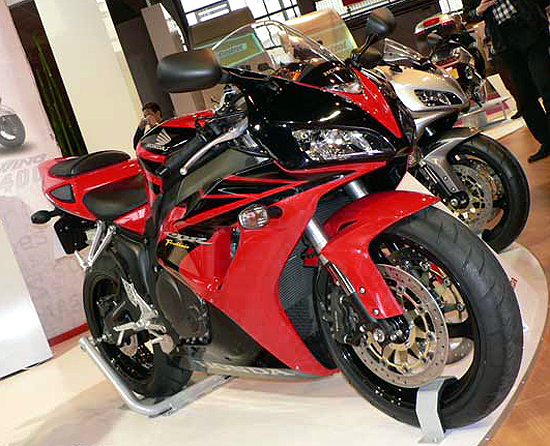 Honda CBR1000 RR Fireblade specs
| | |
| --- | --- |
| Price in Europe | €13,540 |
| Motorcycle type | Sport |
| Years built | 2004 - 2007 |
| Origin country | Japan |
| Views | 683 |
| Submitted by | Hoppelmoppel123 |
General performance
| | |
| --- | --- |
| Top speed | 287 kph (178 mph) |
Powertrain specs
Engine type
Inline 4
Displacement

998 cc

Power

171 ps (169 bhp / 126 kw)

@ 11250 rpm
Torque

115 Nm (85 lb-ft)

@ 8500 rpm
Power / liter

171 ps (169 hp)

Power / €5000

63 ps

Transmission
6 speed manual
CBR1000 RR Fireblade competition
More Honda motorcycles
200
Lambolover 2y ago
I've got a 1/8 scale of this with the exact color and paint job
---
FastestLaps 2y ago
I wish there were more track tests for sports bikes. Obviously, they would not be Nurburgring tests (nobody wants to risk their life for maximum laptime on some random bike) but on some superbike safe track it could be done.
However, bikes are a bit tricky for adding pages because they often have small changes from year to year and its difficult to decide when new page should be added and when those annual changes are small enough to reuse existing page.
---

---
FastestLaps 2y ago @SpeedKing
Yup. If Nurburgring lap records on bike are risking life then Isle of Man TT is just plain suicide.
And surprisingly few fatal accidents have happened there, relative to number of race runs.
---