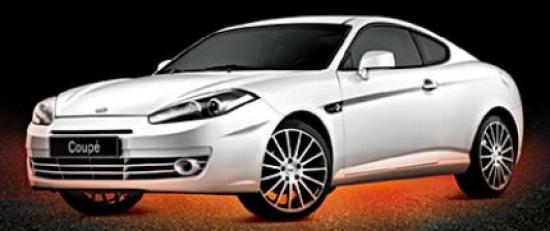 Hyundai Coupe 2.0 16V specs
| | |
| --- | --- |
| Car type | Coupe |
| Curb weight | 1344 kg (2963 lbs) |
| Introduced | 2008 |
| Origin country | South Korea |
| Views | 13.5k |
| Submitted by | Georg |
Performance
| | |
| --- | --- |
| 0 - 100 kph | 9.3 s |
| Est. 0 - 60 mph | 8.7 s |
| 0 - 100 mph | 23.9 s |
| Est. 1/8 mile | 11.8 s @ 72.7 mph |
| Est. 1/4 mile | 17.8 s @ 89.5 mph |
| Top speed | 208 kph (129 mph) |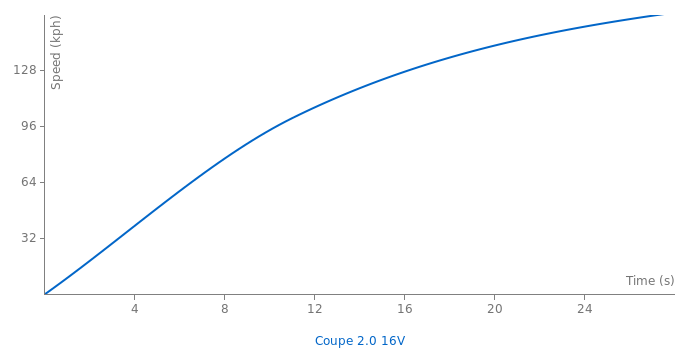 Powertrain specs
| | |
| --- | --- |
| Engine type | inline4 16V n/a |
| Displacement | 2.0 l (122 ci) |
| Power | 143 ps (141 bhp / 105 kw) |
| Torque | 186 Nm (137 lb-ft) |
| Power / liter | 71 ps (70 hp) |
| Power / weight | 106 ps (105 bhp) / t |
| Torque / weight | 138 Nm (102 lb-ft) / t |
| Transmission | 5 speed manual |
| Layout | front engine, front wheel drive |
Coupe 2.0 16V competition
Mathew 9m ago
I've just brought one 2005 reg twelve months mot 900 pound bargain runs like a dream
---
FastestLaps 9m ago
Older cars like this (15+ years) are probably the last remaining segment where you can find any bargains these days.
All the borrowers of cheap car loans are after newer cars, so there is only organic demand left for the old stuff and, therefore, prices are not as distorted.
---
Nick 11y ago
Very nice car,it looks a lot better than many more expensive rivals. Hyundai manage to give a beautiful and reliable car to people which don't have a fortune to give for a sport car.well done.
---
Dim Angelo 2y ago
True. I have the exact same one, almost 7 years now. Still enjoy it, and has never given me trouble. The engine can take some boost too if you choose to turbocharge or supercharge it.