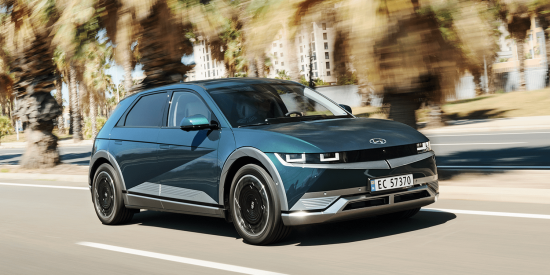 Hyundai Ioniq 5 (225 kW) specs
| | |
| --- | --- |
| Price in Europe | €41,900 - €63,300 |
| Car type | Compact |
| Curb weight | 2100-2132 kg (4630-4700 lbs) |
| Introduced | 2021 |
| Origin country | South Korea |
| Average energy consumption | 36.2-14.7 kwh/100 km |
| Views | 1.2k |
| Submitted by | Hoppelmoppel123 |
Performance
| | |
| --- | --- |
| 0 - 50 kph | 1.9 s |
| 0 - 60 kph | 2.5 s |
| 0 - 80 kph | 3.7 s |
| 0 - 100 kph | 5.1 s |
| 0 - 110 kph | 6.2 s |
| 0 - 120 kph | 7.3 s |
| 0 - 130 kph | 8.6 s |
| 0 - 150 kph | 11.1 s |
| 0 - 160 kph | 13.7 s |
| 0 - 180 kph | 19.5 s |
| 1000 m | 25.7 s @ 188.2 kph |
| 1/4 mile | 13.7 s @ 99.7 mph |
| Top speed | 188 kph (117 mph) |
| 18m slalom | 64.4 kph (40.0 mph) |
| 50 kph - 0 | 9 m (29 ft) |
| 100 kph - 0 | 33 m (110 ft) |
| 130 kph - 0 | 58 m (189 ft) |
Powertrain specs
| | |
| --- | --- |
| Engine type | 2 electric motors |
| Power | 305 ps (301 bhp / 224 kw) |
| Torque | 605 Nm (446 lb-ft) |
| Power / weight | 144 ps (142 bhp) / t |
| Torque / weight | 286 Nm (211 lb-ft) / t |
| Efficiency | 127 PS per l/100 km |
| Power / €5000 | 27 ps |
| Transmission | 1 speed |
| Layout | middle engine, all wheel drive |
Rolling acceleration
| | |
| --- | --- |
| 60 - 100 kph | 2.8 s |
| 70 - 90 kph | 1.9 s |
| 70 - 100 kph | 2.7 s |
| 70 - 120 kph | 4.8 s |
| 70 - 130 kph | 6.1 s |
| 70 - 140 kph | 7.5 s |
| 80 - 120 kph | 3.6 s |
Interior noise
| | |
| --- | --- |
| Noise @ 50 kph | 56 dB |
| Noise @ 80 kph | 64 dB |
| Noise @ 100 kph | 64 dB |
| Noise @ 130 kph | 68 dB |
| Noise @ 160 kph | 71 dB |
Ioniq 5 competition
Markx787 4m ago
We have more Power in North America 320BHP this car his pretty good!
---
CaptRB 4m ago
Yes, the Ioniq 5 is pretty quick. I drove one, but settled on the EV6 GT-Line AWD, which does 0-60 in 4.6 seconds. FYI, the Ioniq is more like 4.8 to 4.9 seconds. Same motor system. How quick is that? Well, my AMG Mercedes was a bit quicker, closer to 4.1 seconds most of the time, but these EV's feel faster because of the instant torque. I also drove the Tesla Model Y performance, which is VERY quick. If you need speed, the Kia GT and Ioniq 5N will be close to 600 HP and be knocking off 60 mph in around 3.5 seconds. That means they'll beat my previous Hellcat 99% of the time in real world driving. Kia and Hyundai are kicking butt with these new EV's!
---
Z31Turbo84 7m ago
This thing is incredibly quick for what it is.